As you may know, the Design News crew recently finished coming down from the high of our very successful Pacific Design & Manufacturing annual industry event in Anaheim. But now we're ramping up for our next event, Design & Manufacturing New England, April 13-14, at the Boston Convention & Exhibition Center. Along with Design & Manufacturing New England, engineers and manufacturing professionals will be flocking to the co-located BIOMEDevice Boston, PLASTEC New England, and Embedded Systems Conference (ESC) Boston.
For ESC Boston, our friends at sister publications Embedded.com, EDN, and EETimes have developed and will be distributing 100 "Hello There!" networked, interactive electronic badges that will let lucky wearers discover each other for some worthy face time. When we say that we want attendees at our events to be engaged and interact, we mean it.
You may be naturally asking, "Electronic show badges; been there, done that. What's so darn exciting about these "Hello There!" badges, and why do I need one?" Well, if you score one of these badges, with their 8 x 8 matrix of LEDs, you will be able to do the following very fun things:
Show off to, uh, inform other attendees your area(s) of expertise/interest -- Analog, Digital, Hardware, Software, STEM, and/or the IoT – using DIP switches.
Enter your name which will be displayed along with any other scrolling texts.
Communicate with other lucky badge wearers over a low-power wireless mesh network when they're in proximity via electronic alerts.
Play pre-loaded classic games, including Breakout and Snake, as well as Rock-Paper-Scissors-Lizard-Spock with fellow badge holders.
Control a little robot vehicle (which will be equipped with a "Hello There!" badge), which will be all around the ESC show.
Attend the ESC 2016 "Hello There!" Badge Meet-Up, where you'll learn how to hack the thing to upload your own programs, and also have a chance to win said robot vehicle (actually, four of these robots will be given away via four respective drawings; keep reading below).
Attend the Tech Trivia Quiz at the close of the second day of ESC (when another robot will be given away).
So now you may be asking, "How do I snag one of these babies?!"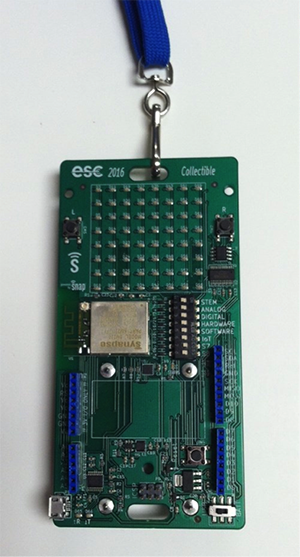 (Source: Max Maxfield / Embedded.com)
To get one, just post the following message on Twitter on or before the morning of March 16:
Find me at #ESCbos this April in this cool #wireless mesh network #LED badge: http://ubm.io/ 1oDG0UO ESC: http://ubm.io/1QoW0zG @ESC_Conf
EDN Executive Editor Suzanne Deffree will randomly pick 75 tweets that she sees on the morning of March 16 and then contact the lucky winners via Twitter.
Anyone contacted will have to show up on the morning of April 13 at the "Introducing the ESC 2016 'Hello There!' Badge" session at the Boston Convention & Exhibition Center to pick up their winning badge. If you are not there, your badge will be given to someone else randomly. This, actually, means that you don't have to send the tweet but rather just attend the open-to-all "Introducing the ESC 2016 'Hello There!' Badge" session for a chance to win, but your chances definitely improve if you tweet. Aside from the 75 aforementioned badges, at the session, Suzanne will randomly give away 10 more badges, plus one of the four robot vehicles. A fourth robot is planned to be given away at the end of the first day of ESC Boston, but check back here for details!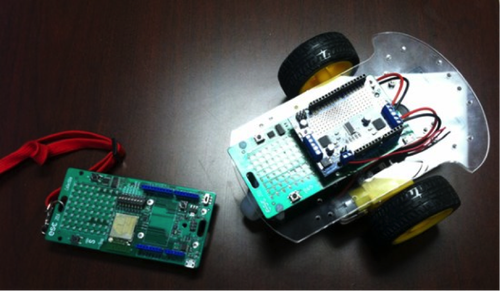 (Source: Synapse Wireless)
It should go without saying that you will need to register for the ESC Boston show as soon as possible. And if you do tweet, you will need to be registered before Suzanne possibly contacts you on Twitter. Suzanne will give out the remaining 15 badges during the course of ESC 2016 at her discretion, so better find her and suck up to her.
Now check out this video of Embedded.com editor Max Maxfield showing off, I mean, explaining the "Hello There!" badge. After watching Max, register for the show using the link above. There's no time to waste!
Join over 2,000 technical professionals and embedded systems hardware, software, and firmware developers at ESC Boston, April 13-14, and learn about the latest techniques and tips for reducing time, cost, and complexity in the development process.
Design & Manufacturing New England returns once again to deliver hands-on access to the latest design engineering and manufacturing technologies and education to help you stay ahead of the competition. Join more than 3,000 business leaders, entrepreneurs, manufacturers, and suppliers, gathered under one roof to share solutions and gain valuable insights. Benefit from 300-plus suppliers in the expo hall and learn from 50-plus industry experts over two days of engaging conference sessions.
Will Ng is a perfectionist who has been in business journalism for more than 15 years, many of which have been devoted to covering manufacturing, technology, and industry. A writer first, he loves to tell a good story and enjoys reporting on market trends and news.
Like reading Design News? Then have our content delivered to your inbox every day by registering with DesignNews.com and signing up for Design News Daily plus our other e-newsletters. Register here!