Two troublesome toys have clouded the skies over the North Pole this season -- the fiery Hoverboard and the hackable Hello Barbie.
Mattel's Barbie was billed as the world's first "interactive doll" capable of listening to a child and responding via voice in a manner similar to Apple's Siri. But according to the Wall Street Journal, BlueBox Security uncovered several vulnerabilities in the toy, the worst of which could allow an attacker to intercept a child's communications.
Click on Hello Barbie to start the slideshow and see examples of how other toys have actually been or could be hacked: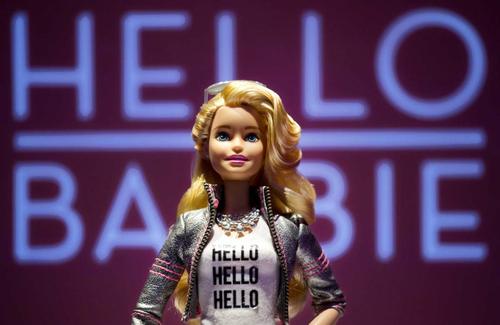 Mattel's Hello Barbie.
(Source: adweek)
While Hello Barbie is vulnerable, some toys have actually been hacked this holiday season. Last month the Hong Kong-based toy firm VTech admitted a hack of nearly five million customers. The stolen data included personal information about children and their parents. Hackers apparently gained access to VTech's Learning Lodge website, where parents can download apps, e-books, and other materials for VTech toys. The admitted hackers said nothing would be done with the data.
To make the connected-toy world even weirder, Samy Kamkar, a security researcher, claims that his tool, "OpenSesame," allows him to open any garage door that uses a fixed code system to communicate with its wireless remote. His makeshift device was designed from a Mattel toy called the IM-ME. Kamkar says he can test every garage combination and open it in seconds. The IM-ME has since been discontinued.
READ MORE ARTICLES ON HOLIDAY TECH GIFTS:
Even weirder on the WiFi toy front, members of the UK government believe connected toys could come in handy for spying. They introduced the draft Investigatory Powers Bill that would allow security and intelligence agencies to interfere with electronic equipment in order to obtain communication data from a device, i.e. toys. This would mean that government agencies could lawfully take over children's playthings to monitor suspects.
Last month, Intel put out instructions
on how to protect holiday gifts against most hacking.
Tell us: were any of these gifts under your tree this year?
Rob Spiegel has covered automation and control for 15 years, 12 of them for Design News. Other topics he has covered include supply chain technology, alternative energy, and cyber security. For 10 years he was owner and publisher of the food magazine Chile Pepper.
Like reading Design News? Then have our content delivered to your inbox every day by registering with DesignNews.com and signing up for Design News Daily plus our other e-newsletters. Register here!

Design engineers and professionals, the West Coast's most important design, innovation, and manufacturing event, Pacific Design & Manufacturing, is taking place in Anaheim, Feb. 9-11, 2016. A Design News event, Pacific Design & Manufacturing is your chance to meet qualified suppliers, get hands-on access to the latest technologies, be informed from a world-class conference program, and expand your network. (You might even meet a Design News editor.) Learn more about Pacific Design & Manufacturing here.