After a series of cryptic video advertisements Google held a formal event on Tuesday announcing its biggest push yet into the hardware realm via its Made By Google brand. The company is introducing a new version of the ChromeCast and bolstering its investment in Nest and the smart home market with Google Home and Google Wifi. But the two biggest announcements came in the form of a brand new phone and a virtual reality (VR) headset.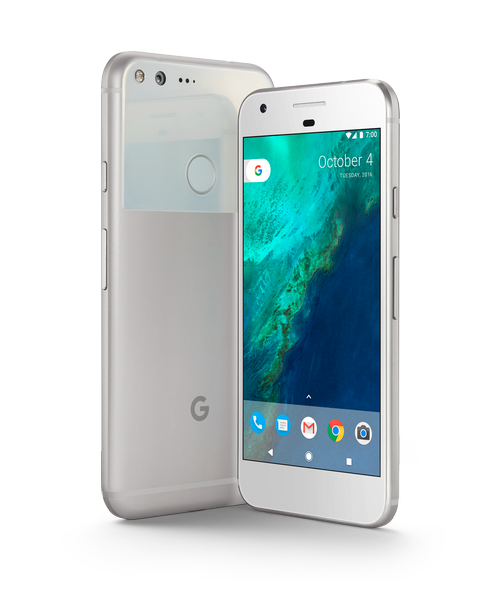 Google's Android OS has long been the go to for non-Apple smart devices. But now the software giant is formally moving into phone hardware with Pixel – the first smart phone completely designed by Google (though it is being physically built by HTC).
Aside from from specs that take healthy jabs at Apple (the phone has a 3.5mm headphone jack the company calls "satisfyingly not new" and comes in three colors, Quite Black, Really Blue, and Very Silver) the phone has some competitive power under the hood. The two models, the Pixel and Pixel XL, run on quad core Qualcomm Snapdragon 821 processors running at either 1.6 Ghz or 2.15 Ghz respectively with 4GB of RAM.
The Pixel will have 32 GB of storage compared to 128 GB for the Pixel XL, and the phones will have a 2,770 or 3,450 mAh battery respectively that Google says can provide up to seven hours of power with only 15 minutes of charging time. The phone also has a 12.3 MP camera with a f/2.0 aperture, setting it at a higher overall rating than the iPhone 7's camera (12 MP camera with a f/1.8 aperture) according to DxOMark Mobile, and making it the highest-rated smartphone camera the organization has ever tested. The Pixel will have a 5-inch 1080p display and the XL a 5.5-inch Quad HD display.
Size and weight wise the Pixel will come in at 143.8 x 69.5 x 8.6 mm with a weight of 143g and the XL at 154.7 x 75.7 x 8.6 mm with a weight of 168 g. Interestingly the Pixel will be slightly larger and heavier than an iPhone 7 (138.3 x 67.1 x 7.1 mm at 138 g, while the Pixel XL will be slightly smaller and lighter than an iPhone 7 Plus (158.2 x 77.9 x 7.3 mm at 188 g).
But Google is still a software company at heart and is placing a big emphasis on the Pixel's software functionality over its hardware performance. Pixel will be the first phone with Google Assistant built-in. Google Assistant is Google's answer to Siri, Cortana, and Alexa – a virtual assistant powered by Google search that is also capable of interfacing with a number of your Google-enabled smart home devices including your TV and audio system.
The other noted feature for the Pixel, as pointed out by Clay Bavor, the VP of Virtual Reality at Google, is that Pixel will be the first "Daydream-ready" phone on the market. Back in May Google released a beta software development kit (SDK) called Daydream VR targeted at developers looking to create VR apps for Google products. The SDK recently came out of beta, which led many to speculate that Google was working on some new VR hardware as well.
Those predictions turned out to be true as Google also unveiled a new VR headset, the Daydream View. Designed to compete with mobile VR headsets like Samsung's Galaxy Gear (the Pixel slides inside of the headset to function as a CPU and display) as opposed to the heavy-duty VR headsets like the Oculus Rift and HTC Vive, the Daydream View looks to be a serious alternative and replacement for Google Cardboard.
Google hasn't revealed the full technical specs for the Daydream View, but Bavor said the headset will feature the wide field of view and low latency head tracking that consumers have come to expect from VR products. Also, the Pixel's ability to capture and play 4K video speaks well to the potential image quality of the Daydream View.
Google is also placing a lot of emphasis on the design aesthetic of the headset...but then again when your only headset offering is a cardboard cutout with some lenses inside, you can really only go up from there.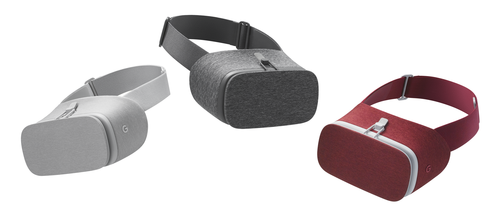 With wearer comfort in mind, Google designed the Daydream View headset with a soft, fabric material.

( Image source: Google)
"The headset is important to get right," Bavor told the audience at the press conference.
We looked out there and we saw some problems. We saw issues with comfort, we saw stuff that's pretty hard to use, pretty complicated, and everything just kind of looked the same."
With wearer comfort in mind Google opted to make the Daydream View using soft microfiber materials, the kind used in clothing and athletic gear, rather than plastic. Based on photos, the texture of the Daydream View could best be described as something that will match nicely with your college professor's tweed jacket.
READ MORE ABOUT GOOGLE ON DESIGN NEWS:
Bavor said that Google consulted with clothing companies when designing the headset. "We weren't inspired by gadgets," he said. "What do people actually wear? Stuff that's soft and breathable." The result, according to Google, is a headset that is 30% lighter than similar devices.
The headset will also come with a simple remote-like controller that Google says is loaded with sensors sensitive enough to detect movements like pointing, swinging, and aiming, providing enough accuracy for users to write or draw.
The Pixel and Pixel XL will both be available in late October with prices starting at $649. The Daydream View will be available in November for $79. Google said in the coming months more Daydream-ready phones will be coming from partners including Asus and ZTE. It's unlikely Samsung will get onboard because it has its own headset, the Galaxy Gear, to push, and with HTC already producing the Pixel from behind the curtain it will be interesting to see what other companies and OEMs join the Daydream ecosystem.
Google's VR plans also raise larger questions for consumers, like how nicely will Facebook (which owns Oculus VR) play with Google's new framework once VR video is readily available online? And, with Apple being just about the only major consumer tech company without its own headset, savvy consumers must be wondering what the house that Steve Jobs built has under its sleeve for VR.
Chris Wiltz is the Managing Editor of Design News
[All images courtesy Google]