When you think of self-playing instruments, most of us probably remember those old-timey pianos. But hey, as respectable as the piano is, it's nowhere near as cool as a guitar -- especially a guitar that can play itself.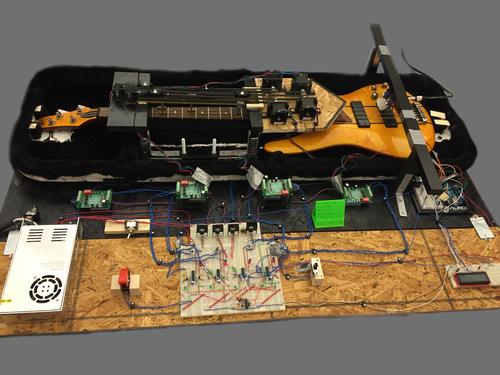 Kevin Lohndorf, Jack Vulcani, Ryan Siebring, and Salim Alfoori, a team of enginering students from Colorado State University, decided to build a programmable device that can autonomously play a bass guitar utilizing a combination of actuators, microchips, logic circuits, sensors, an LCD display, and 3D-printed parts.
The device uses stepper motors, a belt and pulley system, and servo motors to play individual notes on a guitar utilizing an overhead track similar to a desktop printer. There's a spring-loaded plunger, with a ski attached to the bottom to slide and depress the string, on each of the four tracks.
The whole system is Arduino-based and uses a coded sequence to play the desired notes. Anyone with enough programming knowhow can probably get the device to play a variety of sequences...Maybe you don't need a human to play bass in your garage band after all.
See the self-playing guitar in action:
Download the full build instructions -- including a parts list and source code here
Want to submit your own project to Gadget Freak? Email us! Be sure to include "Gadget Freak Submission" in the subject line.
As always, Gadget Freak is brought to you by Allied Electronics and Design News. You can build your own self-playing bass guitar using the parts list below: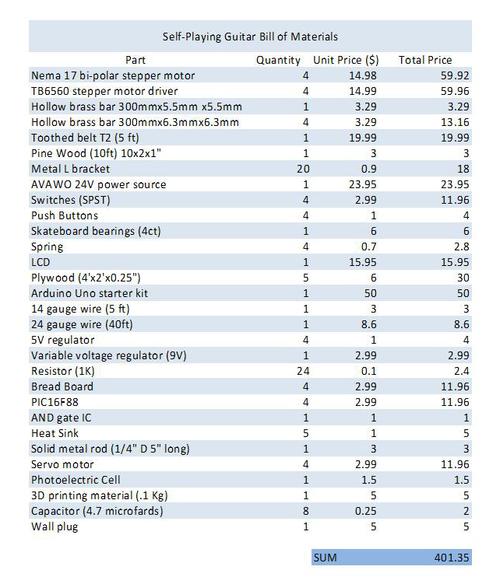 [image via Kevin Lohndorf]