In its keynote showcase at CES, Mercedes-Benz emphasized advances in telematics, which is seemingly turning its automobiles -- like those of its competitors -- into rolling social-media platforms. However, off the show floor, Daimler researchers interviewed by Design News told a potentially more powerful story of research which could ultimately deliver serious weight reductions and range boosts for electric vehicles.
The keynote speech was given Tuesday by Dieter Zetsche, chairman of Daimler AG and head of Mercedes-Benz. Zetsche became famous in the US a decade ago as "Dr. Z," the star of television commercials for Chrysler Corp., which Daimler owned at the time.
At CES, Zetsche turned his Teutonic charisma to the task of marketing what he called the next level of auto mobility. That would be Daimler's telematics system, called mbrace2, which is making its first appearance in Mercedes's new SL, and will soon become standard on all its US models.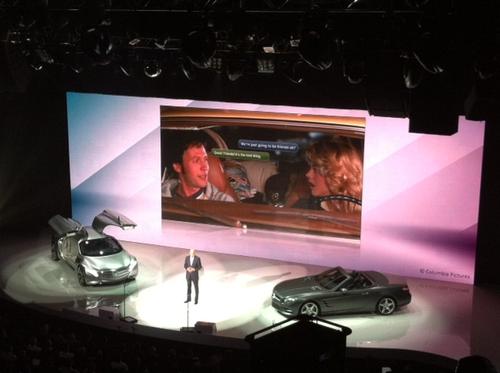 Daimler Chairman Dieter Zetsche talks up Mercedes-Benz's new telematics platform in his CES keynote.
Billed as cloud-based, mbrace2 uses Daimler's Vehicle Backend Server to continuously stream navigation information to the car, and to enable connectivity to social media sites such as Facebook. In the other direction, it'll send real-time automotive diagnostics back to the dealer.
On a marketing basis, it's billed as a "digital lifestyle" solution which can function as a "personal concierge." That will allow parents to track what their kids are doing with the car, search on Google, and perform other common Internet-era functions.
However, beyond such low-hanging consumer fruit, Zetsche alluded to more serious applications that will be possible via the continued uptick in embedded automotive smarts. "We're working on a new generation of vehicles that serve as digital companions," he says. Proactively offering consumers entertainment is a big part of that, but so are weather and road-condition advisories for drivers' planned trips.