Just when you thought mobile technology couldn't get any more personal, Procter & Gamble have come up with a way to put your mobile where your mouth is, in the form of a Bluetooth 4.0 connected toothbrush.
The device, the first of its kind when it was initially released last year, is being shown off by the company during Mobile World Congress 2015 in Barcelona this week. With the help of an army of dental hygienists, they are encouraging conference goers to stop and brush for a couple of a minutes, using the new-and-improved Oral-B electric brush and connected app.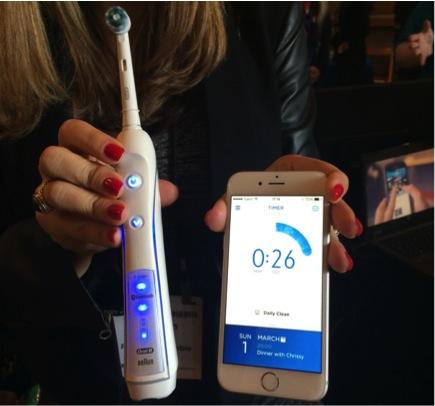 The brush looks like a regular electric toothbrush, but inside boasts Bluetooth connectivity, which when paired to the Oral-B app, provides real-time guidance to users while they brush. It records brushing activity as data that gets plotted into daily charts that can be shared with dentists, or, of course, tweeted out to the whole Internet. Because apparently social media isn't annoying enough without having to see when random people have properly brushed their teeth.
The new and refreshed SmartSeries 7000 even allows users to choose their own particular "dental care journey" in which they can select from five different options including; Fresh Breath, Plaque Fighter, Whitening, Gum Health, or Ortho Care.
According to the firm, these "journeys" provide "a more active and engaged brushing routine." But don't think that means you should overzealously be piling on the pressure. Indeed, if the brush senses you're pressing too hard against your teeth and gums using its built-in pressure sensor, a red light flicks on to warn you to back off a bit.
The app also has a timer to let users know when to switch quadrants inside their mouths for better all-round brushing.
The whole experience is supposed to take around two minutes, which is the recommended dentist-approved brushing time. Now, because two minutes is a long time, and Procter & Gamble knows you're a busy person, they've built in some infotainment features into the app, to stop you from getting bored while you brush. Using a special holder (which can be attained for an additional fee, of course) to prop the phone up, users can browse the latest news, photos, and weather reports while waiting for the interminable two minutes of brushing to pass. And in case that wasn't good enough, the firm is also opening up its API to developers to expand the electric device's content and functionality.
MORE FROM DESIGN NEWS: Do We Really Need an App for That?
MORE FROM DESIGN NEWS: Engineering Apps You Need to Know About
You may tut or shake your head, but according to P&G, its year-old Bluetooth-enabled toothbrush is already improving oral care behaviors worldwide, including metrics such as brushing time, flossing, rinsing, and tongue cleaning.
Representatives from the firm said that 83% of brushing sessions using the device lasted more than two minutes, with a global average brushing duration of 2:24. Meanwhile, the Oral-B App has been downloaded nearly 300,000 times since launch, with 87% active users in the month of December 2014; 60% of brushing sessions are leveraging the rinsing, flossing, and tongue cleaning app reminders, as well.
A regular speaker on the tech conference circuit and a Senior Director at FTI Consulting, Sylvie Barak is an authority on the electronics space, social media in a b2b context, digital content creation and distribution. She has a passion for gadgets, electronics, and science fiction.