Early last year, two engineers from Analog Devices (ADI) showed up at a commercial kitchen in Malden, Mass., to do destructive physical analysis on boxfuls of tomatoes. In the world of food preparation, it was an unlikely moment: two left-brained semiconductor engineers, ready to measure and analyze, meeting with a cadre of right-brained chefs who'd spent their careers cultivating their culinary instincts. But if engineers Rob O'Reilly and J.P. O'Connor thought their visit would be forgotten or ignored, they were mistaken.
"When the ADI guys came into the kitchen, it was like the Rolling Stones had arrived," recalled Francis Gouillart, author of the blog, The Co-Creation Effect and founder of the Experience Co-Creation Partnership. "The tattooed chefs, looking at the engineers in their ADI outfits, were saying, 'Who are these guys with their instruments?'"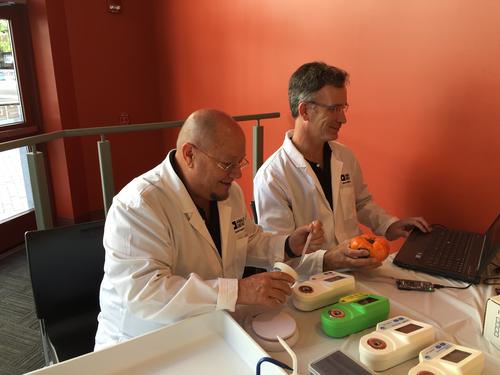 ADI engineers Rob O'Reilly (left) and J.P. O'Connor joined chefs and tomato growers at the Massachusetts Department of Agricultural Resources' Annual Tomato Contest in Boston, where they learned how chemistry affects the taste of a tomato.
The "guys with the instruments," however, left their mark. In part thanks to their work, a growing number of chefs and farmers in Massachusetts now talk about the "scientification of taste" as if it were an established branch of engineering. And as a result of ADI's destructive analysis and its subsequent role in Massachusetts' 31st Annual Tomato Contest in 2015, a select group of chefs and farmers now have a better understanding of the role chemistry plays in producing a tasty tomato. Moreover, ADI's engineering team has since topped off its analysis with the creation of an electronic reference design aimed at helping farmers grow the kinds of tomatoes that end up on dinner tables.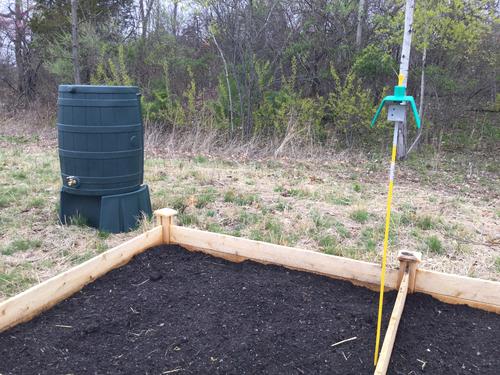 ADI created an electronic reference design (under the green top) that collects data on air temperature, humidity, and ambient light around a tomato plant, and then relays it to the cloud.
"It came down to two things -- when do they need to water and when do they need to harvest?" said Rob O'Reilly, senior member of the technical staff at Analog Devices. "With our technology, farmers could now go acquire the data to calculate the answers to those questions."
Addressing the Grand Challenges
ADI's foray into tomato engineering stemmed from an earlier discussion its engineers had with Gouillart about the role of technology in solving humanitarian problems, such as delivery of clean water and good food to the hungry. "Francis came up to us and said, 'Why doesn't Analog Devices work on addressing some of these pillars of the earth?'" O'Reilly recalled. "I told him we could at least go out and start acquiring data, and put our own pillar together."
Thus challenged, ADI engineers started out by addressing a smaller problem: the production of tomatoes in New England. For years, farmers and restaurateurs in New England knew that their tomatoes didn't stand up to those grown in other states, such as Florida and California. "It's a known fact that a lot of the local farmers sell zero percent of their tomatoes to local restaurants and supermarkets," O'Reilly said. "The majority of it becomes ketchup."
---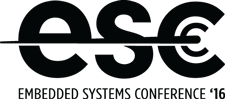 Building out the IoT. Get down and dirty on hack-proofing C/C++, cryptography basics, IoT device creation in 45 mins, taking your IoT design cellular, debugging tips and tricks and more in the Connected Devices and the Internet of Things track at the Embedded Systems Conference, Sept. 21-22, 2016 in Minneapolis. Register here for the event, hosted by Design News' parent company UBM.

---
Indeed, it becomes ketchup, which means that New England farmers make about $0.40 a pound for their tomatoes, as opposed to the $4 per pound they'd get by selling them into restaurants and supermarkets.
Knowing that, O'Reilly and O'Connor began tearing down tomatoes at the commercial kitchen in Malden to learn more about the problem. "We destroyed a lot of tomatoes, just to collect data on fructose, glucose, sucrose, acids, and water content," O'Reilly said.
In August 2015, they followed that effort by becoming the first semiconductor company to set up a booth at the Massachusetts Department of Agricultural Resources' Annual Tomato Contest in downtown Boston. There, they learned to link their newly gained chemistry knowledge to consumer tastes. But if their visit was unexpected, it was not unappreciated. "We drew quite a crowd," O'Reilly said. "People kept coming over to our booth and saying, 'Wow, we think of ADI differently now.'"