What can improve sports car performance?
This is what Neill Briggs, director of product development and co-founder of Briggs Automotive Co. Ltd. (BAC), asked during a presentation at the Autodesk Accelerate conference in Boston last month.
Answers from the engineers and designers in attendance included aerodynamic improvements, higher-octane fuel, and more powerful engines.
No, no and no, Briggs replied. Aerodynamics affect just 2.6% of performance, only 60% of fuel energy moves a car, and 62% of energy is lost in internal combustion.
For Briggs, a good way to improve performance is with powerful brakes.
This sounds counterintuitive, but if anyone knows automotive performance, Briggs does. His company in Liverpool, England, developed the Mono, the world's first road-legal, single-seat "purist supercar," as he described it.
The BAC Mono looks like a Formula 1 racer. The vehicle, which costs $250,000 and up, has a 2.5-L engine, makes extensive use of composites, and is reportedly faster on a track than an Enzo Ferrari.
And while it is eye-catching, "the most important thing is that the car performs as well as it looks," Briggs added.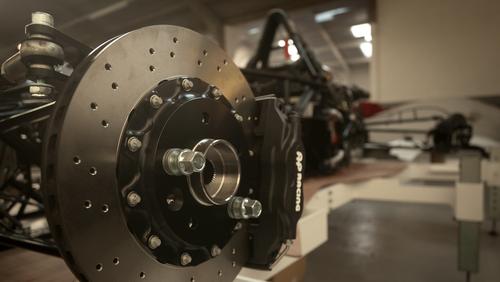 The front left corner of a BAC Mono under construction sports a steel brake. But BAC will adopt a carbon-ceramic option from Surface Transform that weighs less and can improve performance. (Photo credit: Bryn Musselwhite/BAC website)
Briggs announced a new option for the Mono at the Autodesk conference: carbon-ceramic brakes developed by Surface Transforms (ST) of Ellesmere Port, England, with input from the UK's Niche Vehicle Network.
The brakes weigh 2.5 kg (5.5 lb) per corner, half of the steel brakes they replace. They are drop-in replacements since ST makes them in the same diameter as conventional brakes (most carbon-ceramic discs are, for performance reasons, bigger than the discs they replace). And, significantly, drivers increase speed once acclimated to the greater braking power.
Briggs said that in trials a Mono with carbon-ceramic brakes posted a 2-second improvement in lap speed.
BAC is the first user of ST's carbon-ceramic brakes. Peter Studer, sales and marketing manager at ST, said the company developed a manufacturing technology that makes them an off-the-shelf option for relatively high-volume sports cars. (Only 50 Monos, in contrast, are made each year.) "Our aim is to reach mainstream OEMs in automotive and aerospace," he said.
What makes the discs effective is their high coefficient of friction, which improves braking performance, and heat resistance. The brakes also absorb much greater heat than conventional steel or iron versions and so provide more efficient thermal cycling. This means they resist "brake fade," the tendency to lose retardation, which affects the amount of speed a driver applies.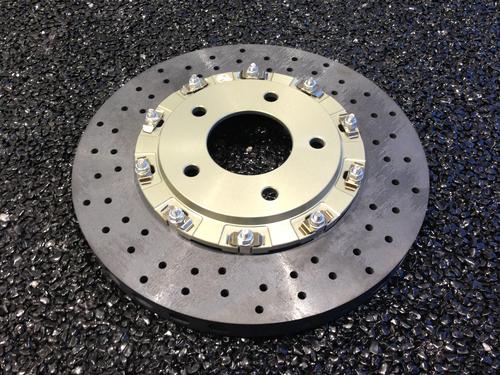 Surface Transform's (ST) carbon-ceramic brake disc assembly is a drop-in replacement for conventional steel brakes. An added feature is a bell with an anodized champagne finish. (Photo credit: Surface Transforms)
Carbon-ceramic brake discs are molded of resin-impregnated chopped carbon fiber. ST, however, starts with a woven, unidirectional, single-filament polyacrylonitrile (PAN) mat of 1.5 by 3 m (4.9 by 9.8 ft). A machine knits 30 or more layers together, at right angles to each other. Disc blanks are cut from the fabric.
The blanks are oven-heated, which transforms the PAN to carbon fiber and then to carbon-carbon. The carbon-carbon discs are machined to final shape, and a "fairly low" amount of silicon carbide is applied. The discs go back into an oven where the silicone carbide melts and "infiltrates" the parts, Studer said.
The final step is surface grinding the hardened carbon-ceramic discs that emerge.
Studer said the process doesn't involve costly tooling or molding machines, so brakes are affordable for small OEMs. An aftermarket kit costs $12,000 to 15,000, similar to others, but less expensive overall since modifications required with conventional carbon-ceramic brakes are eliminated.
The process is, however, lengthy: From start to finish production takes three months. ST inventories five sizes of blanks that meet "99.9% of discs we manufacture," Studer said. Supplying discs from inventory shortens delivery to four to five weeks.

Design News will be in Minneapolis and Orlando in November! Design & Manufacturing Minneapolis will take place Nov. 4-5, while Design & Manufacturing South will be in Orlando Nov. 18-19. Get up close with the latest design and manufacturing technologies, meet qualified suppliers for your applications, and expand your network. Learn from experts at educational conferences and specialty events. Register today for our premier industry showcases in Minneapolis and Orlando
Pat Toensmeier has more than 30 years of experience writing for business-to-business publications. His main areas of coverage have been defense, design, manufacturing, technology and chemicals, especially plastics and composites. He has reported extensively on developments in these areas from the U.S. and Europe, and covered industry events as well in Brazil and Asia. Toensmeier has held various positions at major publishers such as the McGraw-Hill Companies and Hearst Corporation. A graduate of the University of Missouri, he is a contributing editor for several print and online publications. Toensmeier is based in suburban New Haven, Conn.