The last time we told you about SABIC's lightweighting polycarbonate (PC) glazing materials they were reducing the weight of the rear side windows in Ford's Fusion-based Lightweight Concept vehicle by 35%. Now they've appeared for the first time in a production car: the rear quarter window of Toyota's special edition 86 GRMN sports car, where they're saving 50% of its weight compared to conventional glass.
If you haven't heard of this car, that's because the special edition 86 GRMN is a model sold only in Japan. It was debuted earlier this year at the Tokyo Auto Salon 2016. The rear quarter window is injection molded of a material combination devised by SABIC Innovative Plastics. It consists of LEXAN PC resin coated with the EXATEC plasma coating. In addition to saving weight, it's also extremely durable.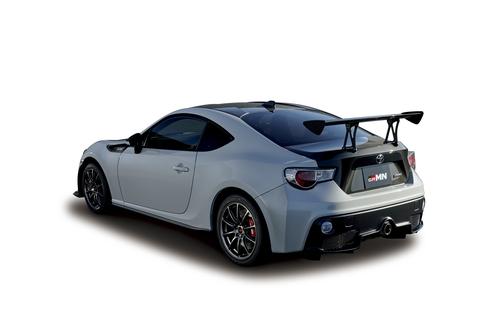 Toyota's special edition 86 GRMN sports car is the first production vehicle to feature a rear quarter window made of polycarbonate with a proprietary plasma coating solution from SABIC. The high impact strength and optical clarity of LEXAN resin combines with the advanced abrasion resistance of the EXATEC coating to save 50% weight compared to conventional glass, and also meet regulatory requirements for driver visibility.
(Source: SABIC)
The LEXAN resin combines light weight, high optical clarity, and impact resistance, while the EXATEC coating provides long-lasting, glass-like resistance to damage from scratches and UV light. EXATEC, a plasma technology, is a flexible glass-like coating deposited on top of a base wet coat. Although PC glazed windows aren't new, this coating type on this type of window is new. The standard PC rear window has only the wet coat solution.
SABIC says that, although most wet-coat solutions meet the majority of industry requirements for abrasion resistance and weatherability in rear side windows, Toyota wanted a more durable solution so it could achieve the requirements of global regulations. The EXATEC coating also makes it possible for PC-glazed windows, where they're allowed, to meet requirements for driver visibility.
READ MORE ARTICLES ON PLASTICS:
A 50% weight savings compared to glass is also possible in other large, PC glazed windows like sunroofs and surfaces like backlights. In Toyota's case, the focus was on producting a durable, lightweight part, so it could evaluate the plasma-coat solution for use on a mass-produced global model. The automaker's evaluation includes validation of the manufacturing process for plasma-coated parts in high-volume production vehicles.
The LEXAN PC resin is half the density of glass, and has one-fifth its thermal conductivity. When glazed with the EXAN coating, the PC material can help increase energy efficiency by improving the passenger cabin's thermal insulation. The PC material can also be injection molded, so the car's rear windows can be designed to reduce additional weight as well as improve aerodynamic performance.
For the earlier Lightweight Concept vehicle, based on the 2013 Ford Fusion, SABIC helped to develop a vacuum equipment technology specifically for the automotive industry for large-scale plasma coating production. At that time, other automotive OEMs had already validated the multi-material technology for use on their production vehicles' rear quarter windows and roofs.
Ann R. Thryft is senior technical editor, materials & assembly, for Design News. She's been writing about manufacturing- and electronics-related technologies for 28 years, covering manufacturing materials & processes, alternative energy, and robotics. In the past, she's also written about machine vision and all kinds of communications.