Ford Motor Co. is stepping up its use of recycled, biobased, and recyclable materials in components throughout the car and increasingly across models. This is part of its ongoing efforts to cut vehicle carbon dioxide emissions and waste that goes to landfills.
The automaker has been famously ahead of the curve in using renewable and sustainable materials in its automobiles. We've told you about its work to turn recycled bottles into car seats and its collaboration with Weyerhaeuser on a cellulose-based composite for car interiors. Ford uses sustainable materials in many of its car components: seat cushions, carpeting, head rests, door bolsters, instrument panels, heater and air-conditioner housing, roof lining, fan shrouds, replacement bumpers, seals and gaskets, wheel arch liners, underbody shields, cylinder head covers, and sound-dampening material.
"Our sustainable materials strategy is to develop environmentally friendly alternatives while we're not in a rush, and far enough ahead of time to introduce them in an orderly way," Carrie Majeske, Ford's product sustainability manager, told us.
Click the image below to start a slideshow on Ford's efforts.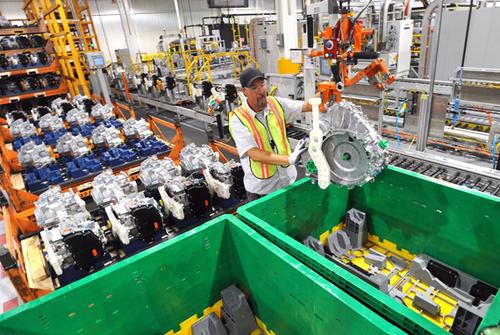 From 2007 to 2011, Ford cut landfill waste 40 percent to 22.7 pounds per vehicle, and it hopes to lower this figure another 40 percent by 2016. The Van Dyke Transmission Plant in Dearborn, Mich., recently became the first in North America to have zero waste going to landfills.
(Source: Ford)
Sustainable materials make good business sense by hedging against future price volatility in materials that may become scarce commodities. "There's also evidence that consumers increasingly want green products," she said. "Although it's not part of the purchase decision when buying a car, they like it after the fact when they know they have it."
Some materials come from surprising sources. Blue jeans are recyled as sound-dampening material, and tires become under-hood gaskets. The automaker uses recycled post-consumer plastics, post-industrial yarns, post-consumer nylon carpeting, and fiber-reinforced plastics. The materials being examined for future use include out-of-circulation US currency (for nonstructural plastic components), coconut fiber (to reinforce molded plastics), and an ingredient in Russian dandelions that might replace synthetic rubber.
Ford has set specific content standards. Since the 2009 model year, seat fabrics used in any new vehicle must contain at least 25 percent recycled material. Electric and hybrid vehicles are meeting even higher standards -- several already are using fabrics made from 100 percent recycled materials.
For a lot of sustainable and renewable materials, we do the R&D on them internally and then seek suppliers for production. We also get ideas for new materials from suppliers. The wood fiber material we developed with Weyerhaeuser is about to go into production, and other new materials are already in the pipeline. We also want to take some existing renewable materials to the next level and make them recyclable.
Right now, Ford uses many recyled materials but few biobased ones. The automotive environment presents some major challenges for bioplastics. For example, materials must withstand temperature extremes and UV cycling and last 10-20 years, Majeske said. They must also be odorless, have no or few volatile organic compound emissions, and meet cost targets similar to those for virgin, petro-based plastics.