If you're having trouble finding highly skilled talent in manufacturing equipment, a contest with awards in cash and travel might help. That's the logic behind Rotor Clip's Ring-A-Majig student competition.
Rotor Clip is a manufacturer of retaining rings, wave springs, and self-tightening hose clamps that serves the global automotive, distribution and general industrial markets. The company launched a contest last year that asked students to create a product using a number of the company's rings. "We've always been concerned about skills shortage and wanted to make sure there was enough technical expertise," Joe Capello, global marketing director at Rotor Clip, told Design News. "We wanted to create some enthusiasm in technical solutions, so we tried to inspire creativity and enthusiasm among students to help them develop the skills we need to keep our industry healthy."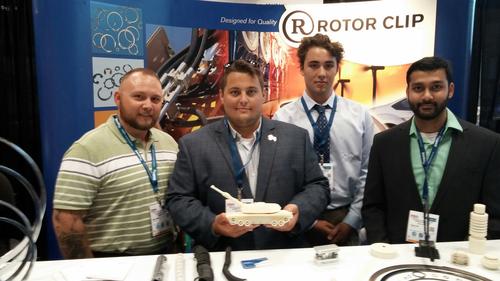 The 2016 Rotor Clip Ring-a-Majig contest winners from East Carolina University attended the Design News Design and Manufacturing show in New York City. Team members include: James Powell, Joshua Adams, Josh Katsikis, and Owais Siddiqui.
(Source: Rotor Clip)
In order to extend the reach of the contest, Rotor Clip worked with the Association of Technology, Management and Applied Engineering (ATMAE). The organization shared Rotor Clip's goal of supporting education in STEM (Science, Technology, Engineering, and Math) through programs that expose students to real-world situations and encourage them to pursue careers in manufacturing. "We wanted to reach technology students and engineering students in colleges. That's a tall thing to do on your own. So we included ATMAE," said Joe. "This organization includes students and professors in technical schools throughout the country. Through ATMAE, we were able to get to the professors and they could present the contest as part of the curriculum."
Using Rings in a Practical Design
Ring-A-Majig challenged students to create product designs incorporating at least 10 retaining rings as fasteners, using each ring in the way it was intended to be used. They were given a choice of 24 standard, tapered inch types displayed on the Rotor Clip website. There were five required retaining rings that featured special characteristics like reducing vibration and gripping a shaft or bore without a groove. "We wanted them to create something unique while uing our products in the way they were intended to be used," said Capello. "The entrants had to explain the rationale for the choice of each rings. They had to use five or six out of 20."
Rotor Clip will continue to work with ATMAE for the 2017 contest, which opens in January. "We hope to get more contestants in the 2017 contest and keep it going as long as there is interest from students and professors," said Jurgen Wenzel, marketing communications manager at Rotor Clip. "We are trying to get the professors involved. We hope to talk with professors at the annual ATMAE meeting."
As part of the contest, the finalists receives cash prizes. Along with the cash, the winning student or team are flown to the company's New Jersey headquarters. The visit is scheduled to coincide with the Design News Atlantic Design and Manufacturing show so the students can get the full experience of a manufacturing trade event.
READ MORE ARTICLES ON AUTOMATION EQUIPMENT:
The first place winners of the launch contest came from East Carolina University. The student team created the Abrams Tank Tin Toy. Team members include James Powell, Joshua Adams, Josh Katsikis, and Owais Siddiqui. "For the winning entry, they were able to grasp the concept of how to use the ring. I think this is something the will take forward," said Calello. "All three of the winning teams got into the spirit of it."
Gearing Up for Ring-A-Majig 2017
The 2017 contest opens January 9, 2017 and will end on April 3, 2017. The entries will be judged and the winners announced prior to the end of the 2017 spring semester. All design ideas must incorporate Rotor Clip retaining rings and wave springs in the way that each is designed to function. All designs must be submitted through an instructor/professor/club advisor affiliated with ATMAE. All Entries must include a fully completed online registration form available on the Rotor Clip contest site.
The first place individual or team will receive a free trip (flight, hotel and meals) to Rotor Clip in Somerset, New Jersey, to tour the company and attend the Atlantic Design and Manufacturing Show at the Jacob Javits Center, New York City, June 13-15, 2017.
Rob Spiegel has covered automation and control for 15 years, 12 of them for Design News. Other topics he has covered include supply chain technology, alternative energy, and cyber security. For 10 years he was owner and publisher of the food magazine Chile Pepper.