At the recent JEC World 2016 composites show in Paris, many companies showcased their carbon fiber composites and related products, several targeting high-volume automotive manufacturing. Last year, Dow Automotive Systems announced a record-breaking, under-60-second molding cycle time for its VORAFORCE 5300 thermoset epoxy resin matrix. This year, the company introduced commercial availability of two new higher-temperature grade versions that have been in the works for awhile.
Dow's been tailoring both materials and process to address its OEM car maker customers' goals for several years, as we've been reporting since 2012. It initially launched commercial availability of its VORAFORCE 5300 matrix in 2014, with an under-90-second molding cycle time, aimed at high-pressure resin transfer molding (RTM) for making structural composite parts for high-volume car production. After yet more work on chemistry, VORAFORCE 5300 with the shorter under-60-second processing time was introduced.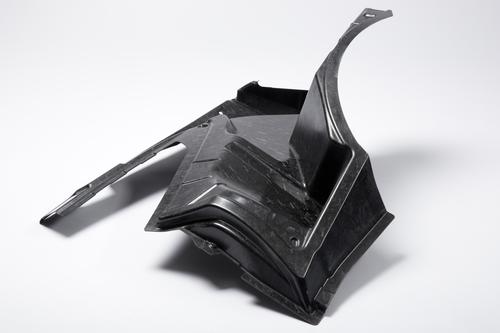 Carbon composite parts like this were developed by Dow Automotive Systems for Aston Martin using its VORAFORCE ultra-fast cure epoxy resin matrix. Two new higher-temperature grade versions are now available.
(Source: Dow Automotive Systems)
Automotive testing to meet fuel efficiency and emissions reduction targets is getting more real-world, meaning it's aimed more toward drive cycles rather than "rolling road" testing, Dow Automotive's global strategic marketing manager Peter Cate told Design News. This is happening as part of the shift toward a worldwide harmonized driving test cycle for light-duty vehicles, instead of relying on multiple regional or other standards. These tests will be substantially more difficult to meet. For example, test starting temperature is lower, so cold-start emissions will increase.
"When you make that shift, you have to assess the value of all the solutions," said Cate. "As automotive OEMs move toward real-world style drive cycles, it looks like they have an accelerated interest in lightweighting as a fuel-efficiency strategy, because it affects all of the systems on the vehicle."
Dow Automotive believes this shift will speed up the development of composite vehicles, Martin Reimers, market development manager for Europe, told us. As emissions targets ratchet up for 2020 and 2025, light metals won't be able to do enough of the lightweighting job. Since the typical development cycle for a car model is five to six years, OEMs will have to start even earlier with implementing new carbon fiber composite materials in car structures, to make sure they are economically viable by those dates, he said.
For some applications, automotive suppliers want higher thermal performance than VORAFORCE 5300's glass transition temperature of 120C, said Reimers. So the company has introduced the new VORAFORCE 6300 system, consisting of the new 6310 resin and the existing 5450 hardener, plus the new VORAFORCE 7100 system, which combines the 6310 resin with the also new 7150 hardener. The 6300 system has a glass transition temperature of 147C, and the 7100's is 195C.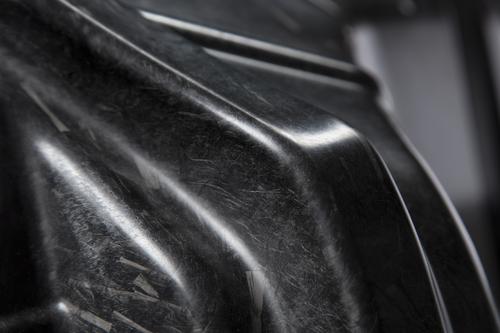 A closeup view of carbon composite parts developed by Dow Automotive Systems for Aston Martin using its VORAFORCE ultra-fast cure epoxy resin matrix.
(Source: Dow Automotive Systems)
The current 5300 system has an ultra-low processing viscosity of 10 millipascal seconds (mPa.s), which reduces fiber movement and improves wet out. This enables complete filling of the large structural composite parts sought by automotive OEMs. Low viscosity becomes more important in carbon composite parts for automotive than for aerospace, since the cheaper, heavy-tow fibers used in cars are more difficult to penetrate, said Cate. Infusion time and latency can also be lengthened by changing tool temperature.
All three VORAFORCE systems are designed to work with both RTM and wet compression molding methods. Wet compression can be faster because it splits up the infusion process, decoupling the temperature at which resin is applied to the preform from the temperature used in the tool, said Cate. The tool can run hotter, so the part cures even faster than the 60 seconds possible in RTM: as low as 30 seconds, which gives a clear economic advantage.
Because of this advantage, the carbon fiber manufacturing industry is moving toward a greater use of wet compression, said Reimers. Currently, 30% of the industry is wet compression and 70% is RTM, but the industry is looking to grow wet compression to more than 50%. "But it's not just all about cure times," he said. "If you have complex, larger parts, which is where the industry is going, you need the ability to fill the mold, as well. If you're doing a one-to-one replacement of a metal component, carbon fiber composite can only be efficient if you make parts a bit more complex, by using part consolidation and adhesive optimization."
Ann R. Thryft is senior technical editor, materials & assembly, for Design News. She's been writing about manufacturing- and electronics-related technologies for 28 years, covering manufacturing materials & processes, alternative energy, machine vision, and all kinds of communications.