General Motors' outward display of commitment to sustainability is led by vehicles like the plug-in hybrid Chevy Volt and the new all-electric Chevy Bolt. Less public is what the automaker continues to do with its operations and facilities to be landfill-free by 2020, adhering to a recycling commitment and the use of sustainable materials in its vehicle designs. It is evaluating materials beyond their normal useful life and looking for opportunities to utilize materials flowing through its supply chain that might otherwise end up as scrap.
For example, cardboard shipping materials from various GM plants are finding their way into headliners in the Buick Lacrosse and Verano models, used for cabin sound dampening. Also, plastic caps and shipping aids at its Fort Wayne, Ind., facility are mixed with other materials to make radiator shrouds for the Chevy Silverado and GMC Sierra pickups built there. And test tires at the Milford, Mich., proving grounds are shredded and used in the manufacturing of air and water baffles for a variety of vehicle models.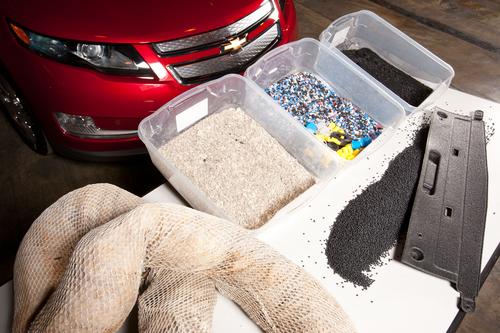 Some resins used in the fabrication of this Chevy Volt air baffle were produced from oil recovered from the Gulf spill.
(Source: GM)
John Bradburn, GM's manager of waste reduction, in a recent interview with Design News, explained that reusing materials is part of the automaker's three-pronged approach to landfill-free operations, along with reducing and recycling. The automaker has benefited financially, as well, with Bradburn telling us that the automaker has generated $2.5 billion in revenue through various recycling activities from 2007 to 2010 and now counts about $1 billion in savings from byproduct reuse and recycling, "as we design out more waste from our operations."
The company recently announced its 131st landfill-free facility, in Toluca, Mexico, where polystyrene packaging is being processed and blended by third-party suppliers that use the material to make shoe soles. The goal is 150 total landfill-free plants by 2020 (100 manufacturing). At present, 90 manufacturing plants are landfill-free, according to the company.
Its design engineers, always under pressure to reduce costs, are finding that using recycled materials sometimes costs less. But there are times when the company encourages spending a little extra. Bradburn said the carmaker identified 120 impact factors that affect the business case for these types of projects. "Nowadays, we look at something called total enterprise cost that gets beyond the old silo approach," he said.
READ RELATED ARTICLES ON DESIGN NEWS:
One example: fan shroud housings in the 2010-12 models of the Chevy Volt contained 30% oil recovered from the Gulf oil spill. The company was able to do that without added cost, but it demonstrated an effort to take a positive out of an unfortunate event.
Bradburn, who was recognized by the White House for his community service efforts that linked directly to finding uses for materials among the needy that would have otherwise been scrapped, described himself as a "supply support mechanism" for GM's design engineers. All of the projects to reuse material at the automaker are developed by a cross-functional group that includes buyers, materials engineers, and others, who look for multi-functional uses from recycled content. Anything that goes into a vehicle is tested and approved by the materials engineering group. "These are not easy projects to do," Bradburn said, "but this is the new P2, which used to [mean] 'pollution prevention.' Now I call it 'passion and persistence.'"
Bradburn said that whether it is a waste reduction or recycled content initiative, it is a sustainability project that "can result in a better material and a better part." He added, "Our suppliers know that this is something that customers want more of, so they know that they'll get more business out of it (with GM)."
RP Siegel, PE, has a master's degree in mechanical engineering and worked for 20 years in R&D at Xerox Corp. An inventor with 50 patents, and now a full-time writer, RP finds his primary interest at the intersection of technology and society. His work has appeared in multiple consumer and industry outlets, and he also co-authored the eco-thriller Vapor Trails.