Ford Motor Co. will bring compressed natural gas (CNG) a tiny bit closer to the masses by rolling out a bi-fuel version of the F-150 pickup in 2014.
The F-150 will be the eighth of Ford's trucks to operate on CNG or liquid propane gas (LPG), but it will be the closest yet to the non-commercial side of the automotive market. Up until now, most Ford vehicles burning CNG have been sold to fleet owners.
"The F-150 is a vehicle that is not only popular in commercial applications, but also for private owners," Dick Cupka, sustainable program manager for Ford Motor Co., told Design News. "This may very well be a good entry vehicle into the private sector for CNG."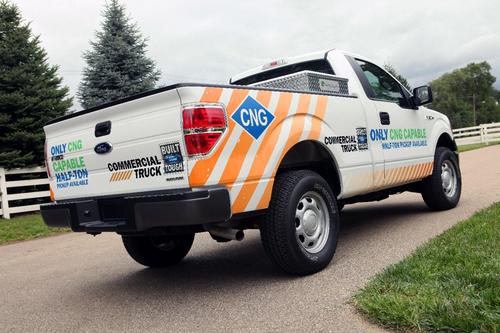 The natural gas version of the Ford F-150 may be an entry vehicle for the private sector for CNG.
(Source: Ford Motor)
Ford now offers multiple CNG/LPG vehicles, including various full-size vans, trucks, and pick-ups. The giant automaker has said that commercial vehicle buyers have typically been the early adopters of CNG trucks, largely because they get a faster payback of the higher initial costs. The half-ton F-150 pickup is slightly different than its CNG predecessors, however, in that it appeals to both fleets and to private truck owners.
The new F-150 will employ a 3.7-liter V6 engine with a factory-installed gaseous-fuel prep package that includes hardened valves, valve seats, pistons, and rings so it can operate on either natural gas or gasoline through separate fuel systems. Buyers will have the choice of configuring the CNG-prepped vehicles as bi-fuel (gasoline and CNG/LPG) or straight CNG/LPG.
"Bi-fuel is the most popular right now because it solves the issue of range anxiety," Cupka told us. "Some people are afraid they will exceed the range of the natural gas tank and will not be able to get back to a station."
F-150's factory-installed engine prep package will cost $315. CNG fuel tanks, fuel lines, and injectors will run approximately $7,500 to $9,500 extra and will be available through outside suppliers.
Ford said that bi-fuel versions of the vehicle will have a range of about 750 miles -- 500 on gasoline and about 250 more on CNG. It will average about 23 mpg on the highway.
Compressed natural gas captures only a small part of the automotive market today, but the numbers are expected to increase over the next seven years. A recent study by Navigant Research predicted that 2 percent of vehicles worldwide will burn natural gas by 2020, and about 0.3 percent will employ CNG in the US. Driving forces include rising gasoline prices and lower natural gas prices. CNG is currently less than $2 per gallon in many states, while gasoline is pushing $4 per gallon.
Several other truck makers -- including Ram and Chevrolet -- offer CNG vehicles. Honda also markets a 1.8-liter, four-cylinder CNG engine on its Civic Natural Gas car. Cupka told Design News that Ford will announce a gaseous-prepped engine for the Lincoln MKT luxury crossover in February 2014.
Ford previously offered a CNG version of the F-150, but discontinued it in 2004 due to lack of consumer interest. But rising gasoline prices, combined with easy availability of CNG, has again piqued the interest of some fleet consumers, causing Ford to bring it back for 2014. "Look at the abundance of natural gas in this country," Cupka told us. "It's cheap, it's clean, and it's an American fuel. That's why there's a push behind it right now."
Related posts:
{doclink 264920}
{doclink 240962}
{doclink 237768}
{doclink 240962}
{doclink 233922}
{doclink 234370}
{doclink 240915}
{doclink 241581}
{doclink 240475}
{doclink 240630}
{doclink 235176}
{doclink 240303}
{doclink 237328}