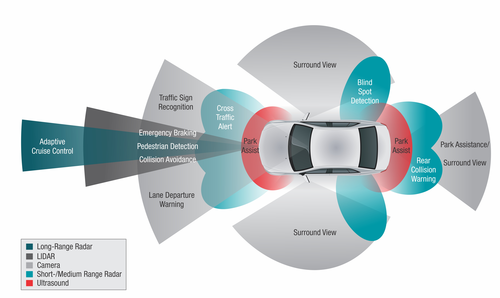 Autonomous vehicles will employ a wide variety of sensors, including short- and long-range radar, LIDAR, ultrasound, and cameras. Automakers are acquiring automation start-ups, which will enable them to do the sensor fusion in-house.
(Source: Texas Instruments)
The letter, which could place the responsibility for an autonomous vehicle's operation squarely on the manufacturer, was quickly followed by a flurry of acquisitions. Two giants of the industry –- General Motors and Toyota Motor Corp. –- invested billions of dollars in Cruise Automation and Jaybridge Robotics Inc., respectively. Meanwhile, automotive supplier Continental AG acquired sensor maker Advanced Scientific Concepts Inc., following on the heels of an earlier investment by Delphi Automotive in LIDAR-manufacturer Quanergy Systems Inc.
The moves are said to be related to the rapidly changing liability picture outlined in the February letter to Google. "The letter suggests that the computer is now liable," Maryanna Saenko, research analyst at Lux Research, told Design News. "And the auto company is liable for the computer. That's why Toyota and GM want to start bringing the design of their control systems in-house."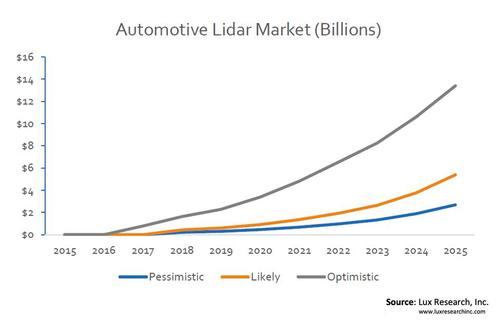 Lux Research's "likely case" scenario calls for the LIDAR market to exceed $4 billion per year by 2025.
(Source: Lux Research)
The National Highway Traffic Safety Administration's Feb. 9 letter essentially said that the computer running an autonomous vehicle could legally qualify as the "driver." "By design, safe operation rests solely on the automated vehicle system," the letter asserted.
The automakers reportedly invested in the technology because they want to manage the sensor fusion. All self-driving vehicles use a wide variety of sensors, including short- and long-range radar, LIDAR, ultrasound, and cameras. "They need to have control over how those sensors talk to each other," Saenko told us. "The computer has to be able to extract the data from the radar and the LIDAR and the camera and then build a correct model and make good decisions."
If automakers are indeed going to be held liable for the actions of the self-driving car, it makes sense that they would want to own and control the technology involved, Saenko said.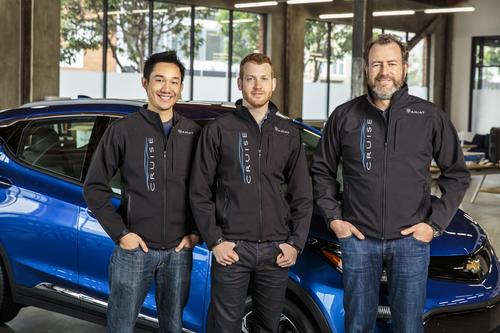 GM president Dan Ammann (right) greeted Cruise Automation co-founders Kyle Vogt (center) and Daniel Kan (left) after the giant automaker acquired Cruise for an estimated $1 billion.
(Source: GM)
At the same time, tier-one automotive suppliers are recognizing the need for advanced hardware, which is why Continental and Delphi are investing in LIDAR makers. LIDAR, which stands for light detection and ranging, uses a time-of-flight technique to enable the vehicle's computer to build an accurate 3D model of the world outside the car. "It fills the gaps that the other sensors don't cover," Saenko said. "That's why we're seeing the auto industry's acceptance of it."
Both Continental's Advanced Scientific Concepts and Delphi's Quanergy Systems make LIDAR sensors. The key for LIDAR manufacturers going forward is to build the devices for lower cost. Only a decade ago, spinning LIDAR systems like those used in DARPA's Grand Challenge were said to cost upwards of $80,000. Car manufacturers and suppliers now want to bring that cost down to hundreds of dollars.
READ MORE ABOUT AUTONOMOUS CARS:
Saenko suggested that the acquisitions were also motivated by a rising sense of competition in the autonomous market space. The technology is evolving faster than automakers and analysts had initially anticipated, and the number of qualified robotics engineers is relatively small. "Now is the time to go out and buy smart people," she said. "Talent is getting exponentially more expensive."
Recognition of the rising tide of autonomous vehicles can be seen both inside and outside the auto industry. Toyota has set aside more than a billion dollars for research and Hyundai Motor Co. is investing $9.75 billion over five years to develop new self-driving technology. Uber Technologies Inc., meanwhile, hired more than 40 robotics experts from Carnegie Mellon University last year. And the Obama administration proposed a $3.9 billion investment in autonomous vehicle research in February.
"The technology is moving faster than anyone could have guessed," Saenko said. "It's turning transportation on its head."
Senior technical editor Chuck Murray has been writing about technology for 32 years. He joined Design News in 1987, and has covered electronics, automation, fluid power, and autos.