General Motors has resumed its commitment to electric cars, officially announcing that it will produce and sell a new vehicle called the Spark EV in 2013.
Without a trace of the fanfare that accompanied the announcement of the Chevy Volt in 2007, GM said its new car will be sold in limited quantities in select US and global markets, and will be powered by a lithium-ion battery pack from A123 Systems. The Spark EV will be the first all-electric vehicle built by GM since it scrapped its infamous EV1 program a decade ago.
"This car will not be aimed at the mainstream buyer, as the Volt was," noted Dave Hurst, senior analyst for Pike Research, in a Design News interview. "It's just too small."
Indeed, a GM press release refers to the Spark as a mini-car, about "three feet longer than the Smart Fortwo and four inches longer than the Fiat 500."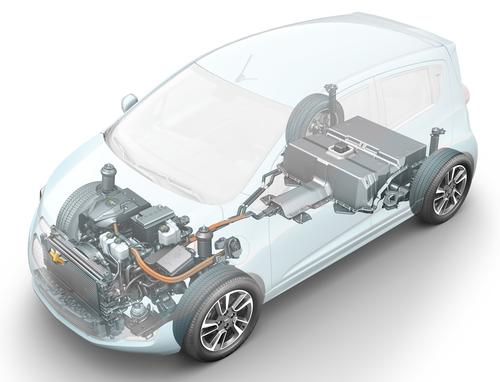 Chevy's Spark EV will be powered by a lithium-ion battery pack from A123 Systems.
(Figure courtesy of Chevrolet)
GM is believed to be targeting the vehicle toward Asia. "The Voltec technology in the Volt certainly has a place in the US, China, and Europe," Randy Fox of GM told us. "But there are other markets that will be best served by these vehicles."
Hurst said he expects India to be a key area of concentration for the Spark EV. There, he said, mini-car-sized vehicles are considered much more acceptable, and government agencies don't require the same safety features that have become common in the US. The biggest factor, however, could be cost, he said.
"You've got lower incomes there," Hurst said. "In India, mainstream buyers are looking at two-wheel vehicles and much cheaper cars."
GM says the smaller vehicle is also better suited to Asia's high population density. "When you get into the mega-cities and the shorter driving commutes that they have in those regions, the Spark EV might be a better fit than a vehicle like the Volt," Fox said.
GM will power the Spark EV with A123 Systems's nanophosphate lithium-ion battery technology. In August, the giant automaker said it would partner with A123 on the development of battery technology "at both the cell and system level" for vehicles in global markets. At the time, GM also announced that it was teaming with LG Group, a South Korean electronics and battery manufacturer, to jointly design and engineer future electric vehicles. The automaker has not yet announced any specific vehicle programs involving LG, however.
Hurst said he expects the Spark EV battery to be smaller and less costly than the batteries seen in earlier EVs: "This vehicle is not going to need the same speed or the same range as other electric vehicles, such as the Leaf. There's not going to be the same concern about going 50 miles per hour in India."
For further reading