A123 Systems LLC, which opened North America's biggest electric car battery factory in 2010, is retargeting its lithium-ion technology toward the fast-growing micro-hybrid market. The MIT-spinoff will especially focus on 12V and 48V lithium-ion packs for cars incorporating so-called "start-stop" technology, which enables a vehicle to stop and restart at traffic lights and stop signs.
"We're certainly not pulling away from our existing business in electric vehicles," A123 spokesman Jeff Kessen told Design News. "We're just recognizing going forward that the best growth opportunities are in the low-voltage space."
The "low-voltage" space would be a departure for A123, which had previously specialized in supplying batteries to pure electric cars, plug-in hybrids, and conventional hybrids that use electrical architectures of 300V to 600V. Those vehicles also tend to employ big battery packs incorporating hundreds of cells. In contrast, 12V start-stop architectures employ a battery size similar to that of today's conventional gasoline-burning cars.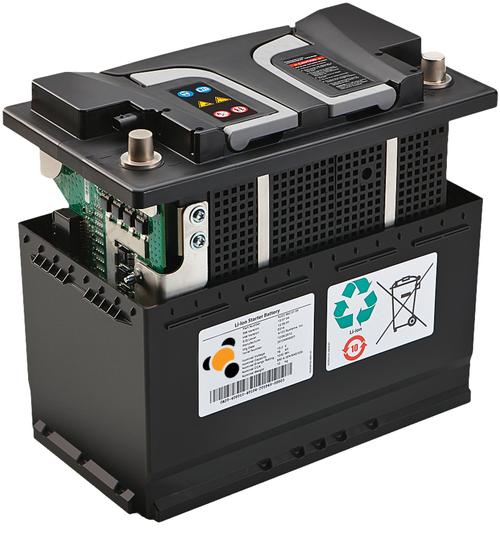 A123 Systems is targeting its lithium-ion battery technology at micro-hybrids that use 12V electrical architectures.
(Source: A123 Systems)
Start-stop technology is expected to see massive growth over the next five years. Lux Research predicts that micro-hybrid sales in Europe will reach almost 12 million a year in 2018. The numbers will be slightly lower in the US, but annual sales are still expected to jump from 300,000 vehicles a year in 2014 to 5 million by 2018. "In the US, we don't think there is a realistic way to get to 54.5 mpg by 2025 without having mild hybrids and micro-hybrids in a large percentage of the vehicle fleets," Cosmin Laslau, an industry analyst for Lux Research, told Design News.
Start-stop technology could help automakers because it boosts a vehicle's fuel efficiency by about 5 percent to 10 percent. By combining it with regenerative braking, the fuel efficiency savings can jump to about 15 percent.
A123 Systems is one of several battery makers now positioning themselves to cash in on the micro-hybrid trend. Johnson Controls, GS Yuasa, Exide Technologies, East Penn Manufacturing, and SK Continental E-motion, among others, are said to be ramping up for micro-hybrid growth.
A123 believes that its lithium-ion chemistry is well-suited to micro-hybrid technology. The key is the battery's ability to handle both start-stop and regenerative braking, which is more difficult for lead-acid chemistries to do. Today, however, most start-stop vehicles use lead-acid batteries. "We're finding that once the vehicle manufacturers get start-stop under their belts, they realize they can't do much regenerative braking because that's the Achilles heel of lead-acid," Kessen told us.
Competitors such as Johnson Controls (JCI) are developing lithium-ion batteries for 48V architectures as a means of handling both start-stop and regenerative braking. Lithium-ion is considered a better candidate for regenerative braking because it has greater charge capability than lead-acid.
For A123, the move to micro-hybrids is part of a larger new business strategy. The company, which notably received $249 million from the Department of Energy to build battery facilities in the US, filed for bankruptcy in 2012. It has since been restructured and acquired by China's Wanxiang Group.
A123's shift toward micro-hybrids should offer shorter-term growth possibilities, which is why the strategy is sweeping across much of the automotive supplier community, analysts say. "Everyone around the same time started figuring out that full EVs aren't that appealing anymore," Laslau told us. "So they decided to shift to micro-hybrids."
As A123 refocuses in that direction, however, the competition will grow intense, Laslau said. "They have experience with lithium-ion batteries, but mostly in EVs, plug-ins, and large hybrids," he told us. "Going into the micro-hybrid space, they'll have to prove themselves."
Related posts:
{doclink 237015}
{doclink 264154}
{doclink 261882}
{doclink 261236}
{doclink 260624}
{doclink 260356}
{doclink 260153}
{doclink 258717}
{doclink 258495}
{doclink 258393}
{doclink 258307}
{doclink 257987}
{doclink 257192}
{doclink 252299}
{doclink 251534}
{doclink 251483}
{doclink 250256}
{doclink 246644}
{doclink 245676}
{doclink 245442}
{doclink 242424}
{doclink 242177}
{doclink 241552}
{doclink 241175}
{doclink 240363}
{doclink 240075}
{doclink 239692}
{doclink 236610}
{doclink 239008}
{doclink 239102}
{doclink 238863}
{doclink 236505}
{doclink 236610}
{doclink 235241}
{doclink 231504}
{doclink 222703}