A sensor-equipped robot at the International Manufacturing Technology Show (IMTS 2016) demonstrated that it can safely work with humans without the need for a safety cage.
Mitsubishi Electric's MELFA industrial robot, equipped with the company's SafePlus technology, operated in a public area at the Chicago-based show using sensors to detect passersby. "When everybody is out of its control space, it runs at its full, normal production speed," noted Scott Strache, product manager for Mitsubishi. "When they walk into the control space, it slows down. And when they step into the restricted area, it stops."
The SafePlus robot used two connected laser sensors to create a 360-degree viewing area around the robot, which allowed Mitsubishi engineers to set up the control space. The giant automation company posted information at the show saying that SafePlus technology could be employed with other types of sensing systems, including area scanners, light curtains, and safety mats.
The SafePlus demonstration was unusual because industrial robots are typically fenced off by safety cages in factory settings. In most such "caged" applications, light curtains sense the presence of anyone who enters, and the robot comes to an immediate stop.
---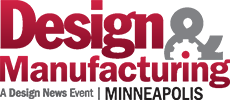 Work Smarter, Not Harder. From machine learning to cognitive computing, robotics and automation are empowering decision making and business strategy development. Get the details in "Working Smarter, Not Harder: Human Collaboration with Robotics and Automation" at Design & Manufacturing, Sept. 21-22, 2016 in Minneapolis. Register here for the event, hosted by Design News' parent company, UBM.

---
Fatal robot accidents are rare but they do occur. The Occupational Safety and Health Administration reported 27 fatalities associated with robots during a 30-year span from 1984 to 2013. Many involved operators being struck by robot arms.
Strache said the new technology is expected to appeal to electronics manufacturers and automotive companies. Those industries, he said, like the idea of having operators and industrial robots working together more naturally. They also like the reduction of necessary floor space. "This shrinks the space you need around the robot because you no longer have to have a safety cage," Strache told us.
Most important, however, is the fact that the technology gives manufacturers a safer and more collaborative robot. "It won't allow operators to get hurt, even if they walk into an uncaged cell," he said.
[images via Design News]
Senior technical editor Chuck Murray has been writing about technology for 32 years. He joined Design News in 1987, and has covered electronics, automation, fluid power, and autos.