Rollon Corp. has launched Motion Box, a pre-engineered Cartesian (or linear) robot system that offers six different motion profiles that can be up and running in a couple of hours. Motion Box includes the human-machine interface (HMI) on one side, and the output of reliable motion on the other end. The cable management is also included, to help users reduce the difficulty of setting up the system.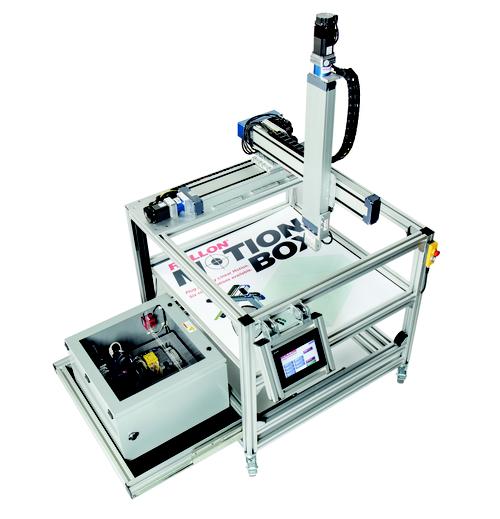 The idea for Motion Box came out of the frustration Rollon customers were having as they cobbled together solutions from parts that came from numerous vendors. "We looked at all of the decisions our customers had to make, the number or vendors they had to contact, the amount of programming involved. It gets complicated and hard to do. You can spend 16 weeks sourcing all the parts and putting it together, and then you push the button and it doesn't work," Rick Wood, managing director at Rollon Corp., told Design News. "After watching this for 20 years, we realized the customers wanted it a different way. You have good motors and good actuators, but putting it together right is complicated."
The concept of creating customer-friendly solutions to complicated problems is gaining traction in automation. The goal is to create complex automation that is easy to deploy. Rollon designed Motion Box so that the initial system setup is already complete. End users can get parts moving in a reliable and repeatable manner. The system has six pre-programmed motion profiles to suit more than 80% of all Cartesian motion applications.
After defining the available space and required motion footprint, users can check the load and speed requirements. Whether the load is 5 kg or 50 kg, maximum speeds are based on this variable. User-friendly load and speed charts are designed to make it simple to determine travel times for x, y, and z axes so that the correct system matches the application.
To make the system easy on customers, Rollon selected the parts and pre-programed the system. "We put together a good package of components. The actuators are Rollon parts. We also took on the cable management. We worked with Mitsubishi on the controllers," Wood told us.
He noted that the system has the smallest work envelope of 12 inch x 12 inch x 12 inch and takes roughly half a second to move from corner to corner. "A larger motion envelope might take two or three seconds to make the same move, depending on the load," said Wood.
Motion Box also offers flexible integration options via an Ethernet connection. The Cartesian robot system can connect to wider automation setups using EtherNet/IP, DeviceNet, TCP/IP, CC-Link, Profibus, and ProfiNet, as well as company networks and control architectures. A streamlined control system was designed for ease of use. Motion Box incorporates the Q-Motion Controller from Mitsubishi Electric, which features four-axis motion control, energy-efficient drivers, integrated I/O and network access and a clean, efficient HMI setup.
The pre-configured Motion Box also helps customers control the expense of an integrator while also using less space on the shop floor. "We're reducing what a systems integrator might do. If you want to move 50 or 60 kilos, it has to be a big system and it needs a lot of floor space," said Wood. "But a Cartesian robot is more efficient in that space. This is a way for a customer to save the footprint."
Wood believes most Rollon customers can do this work on their own, but he asks, Why should they? "A mechanical engineer says I can design all that, but his boss says he doesn't have the time," he said. "We're experts in linear motion. Why should they have to gain our expertise? Let them concentrate on their job, and we'll do the linear motion."
[image via Rollon]
Rob Spiegel has covered automation and control for 15 years, 12 of them for Design News. Other topics he has covered include supply chain technology, alternative energy, and cybersecurity. For 10 years he was owner and publisher of the food magazine Chile Pepper.