Last week's slideshow of the best movies depicting artificial intelligence prompted a slew of comments telling us the important AI movies we failed to include. We decided to gather all of the movies you wanted us to include.
Click on the movie poster to start the slideshow:
We included all of your choices except when the choice included an individual episode of a series, since we were not able to verify. Some suggestions were questionable. The original slideshow collected movies with self-aware machines or programs. We included the reader-suggested Terminator even though we're not sure it's sentient.
---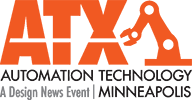 Your Data. Get It. Protect It. Practical information on embedding sensors in 3DP, automation & inventory control, big data as a diagnostic tool, cloud storage and security risks, and more in the Industry 4.0: Smart Strategies for Data Collection and Protection track at Automation Technology, Sept. 21-22, 2016 in Minneapolis. Register here for the event, hosted by Design News' parent company, UBM.

---
Rob Spiegel has covered automation and control for 15 years, 12 of them for Design News. Other topics he has covered include supply chain technology, alternative energy, and cyber security. For 10 years he was owner and publisher of the food magazine Chile Pepper.