New Essential Valve technology provides a user-friendly solution for building pneumatic drive manifolds in industrial automation applications with relatively standard requirements. Designed specifically to reduce the number of components, assembly of pneumatic drive manifolds can now be completed using one torque and one tool, simplifying both system integration for distributors, OEMs, and system integrators.
"The ES05 closes a gap in our product portfolio for developing lower cost valve systems that are easy to assemble, and a design that meets the needs of OEMs in particular," said Marchelle Forish, product manager, controls for AVENTICS. "One size (0.61 Cv) effectively covers the majority of the general industrial market for pneumatic applications."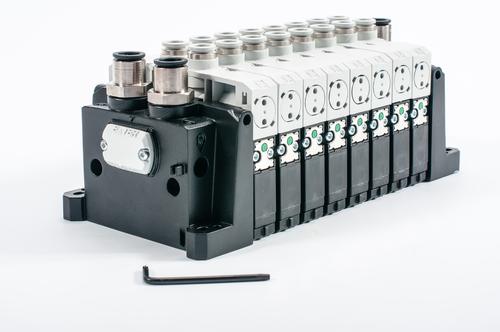 A new manifold system that provides "Legos" for building customized pneumatic solutions for simple applications is a way for users and distributors to be quicker to market.
"For many years, customers and distributors have wanted to build their own manifolds to enable them to be quicker to market," Forish said. "The design of the entire system consists of 25 part numbers and, within that product selection, customers and distributors can build any configuration desired, including both inch and metric. For simplicity, it has been designed with only one torque and one tool required."
One Torque, One Tool
A key to the simplicity of the system is that it always uses 1.1 Newton meters of torque whether the user is mounting the valve, assembling the manifold bases, or installing the pilot valves. Endplate kits for the manifolds include a T10 torque tool embedded, so the only tool needed for assembly is provided with every endplate kit ordered.
Watch "How to Build ES05 Valve System" below:
"The whole concept is to keep the system simple, easy, flexible, and as basic as possible for customers whose applications do not require more advanced functionality," Forish added.
The goal is a valve manifold Lego system that can be used to build customized pneumatic solutions. For both the manifold and in-line valve base segments, the pneumatic portion of the valve is the same. The manifold base sections are always two stations to keep the number of parts to a minimum. Blanking plates are available for configurations with an odd number of pneumatic valves required. The idea is a system that is easy to assemble, with a smaller footprint, using lightweight polymer materials.
Online Configuration Software
To design custom valve manifolds, components can be selected using AVENTICS' online configurator tool. Customers can choose to order complete assembled and tested manifolds from the factory, or use the bill of materials provided for building their own manifolds. In addition to bills of materials, 2D and 3D CAD models are built "on the fly" as the user configures the manifold. If the user makes any changes, the models are automatically updated to provide immediate access to the drawings, pneumatic schematics, user manuals, and other product information that is available on the online configurator tool.
Construction and Interface Options
Valve housings are made of high-performance polymers that are especially stable and compact. Users connect the end and base plates and can extend the system in pairs up to 12 valve stations, single or double solenoid valves. The system offers a 25-pin D-sub interface for the manifold, or a single wire version with DIN type CI plugs according to ISO 15217 that customers individually wire to each valve. Currently, Forish said 60% of systems use the 25-pin D-Sub solution versus a fieldbus interface. For those users who require fieldbus solutions, AVENTICS will be introducing a fieldbus interface for the ES05 later this year.