In March 1912, Emile Bachelet applied to the US Patent and Trademark Office what he called a "levitating transmitting apparatus." Magnetic levitation -- or maglev -- technology was born. At its heart, maglev uses upward magnetic forces to overcome the downward force of gravity. Today, maglev technology is primarily associated with high-speed trains.
But maglev's applications outside of transportation are many, showing up in implanted medical devices, technologies to measure objects to subatomic resolution, glass coating, cooling systems for electronics, the enrichment of uranium, and more. In machinery, it allows for frictionless rotation, which can save energy and reduce wear and tear.
UK-based vacuum engineering company Edwards has been using maglev technology in its turbo pumps since 1983 as a global sales and service partner for Seiko Seiki Co. Traditional ceramic-bearing turbo molecular pumps are often limited to the lifetimes of their bearings and bearing lubrication, and installations are generally restricted to vertical or inclined positions due to the lubrication of the bearing.
According to Edwards, its maglev turbo pumps can be mounted in any orientation, including inverted, which is typically the best position for many users. In addition, maglev technology allows the pumps to operate hydrocarbon-free, which is particularly critical to the semiconductor industry; any potential contamination by hydrocarbons to the silicon wafer can create defects in the device, according to Neil Briault, product manager for Edwards' STP Maglev Europe division.
"The use of aggressive gases in the semiconductor industry can break down hydrocarbon lubricants and cause early failures of ceramic-bearing pumps," Briault told Design News. "As there's no lubricated mechanical bearing in the maglevs, the life of the pumps is significantly extended."
No direct contact with the turbo pump rotor also means significantly less friction compared to ceramic-bearing pumps. This allows maglev pumps to run at 2,000 liters per second at full rotational speed of 27,000 rpm and between 200W and 300W. The five-axis magnetic bearing allows for greater control of the rotor, according to Edwards. The technology creates only low levels of vibration, and less power is required, which leads to energy savings and a more compact size.
3D printing on magleved machines
Maglev technology is also making a showing in even less traditional industries, with one Netherlands-based firm declaring that it will change additive manufacturing. Owl Tech has developed a 3D printer designed to use less power and which it claims has greater precision and speed. The company notes that although the number of extrusion-based 3D printers is exploding today, most of them are essentially based on the same technology: the RepRap Open Source printer.
READ MORE ARTICLES BY TRACEY SCHELMETIC:
According to Floris de Leeuw, who heads business development at Owl Tech, there is a main issue with the printers. "Each time you move the print head, the printer can lose track of where precisely the head is located," said de Leeuw. "Due to slipping belts or other problems, the extruded material often ends up in the wrong place, completely ruining the printed object.
"Besides that, the gears and belts that are moving the printer head are still very slow," Leeuw told us. "The same mechanics make it demanding to maintain the printer during normal day-to-day use, including lubricating the axes, tightening the pulleys, and replacing damaged cables."
Owl Tech's response is to use strong electromagnets that float the printer head. It says this allows for more precise control of the print-head position, using changing magnetic fields. De Leeuw said this results in fewer errors and a high-quality print.
He added, "With magnetic levitation, the print head can also print with six degrees of freedom instead of only three. This allows you to print borders with less overhangs, and directly on the surface of another object. In addition, the lack of mechanical parts allows the print head to move up to four times faster while improving the print resolution and making the printer easier and safer to use."
So while maglev's fate in transportation may still be uncertain -- in practice at only a handful of installations in Asia and highly politicized in other areas where it has been proposed -- the technology's commercial applications for manufacturing are becoming well established.
Tracey Schelmetic graduated from Fairfield University in Fairfield, Conn. and began her long career as a technology and science writer and editor at Appleton & Lange, the now-defunct medical publishing arm of Simon & Schuster. Later, as the editorial director of telecom trade journal Customer Interaction Solutions (today Customer magazine) she became a well-recognized voice in the contact center industry. Today, she is a freelance writer specializing in manufacturing and technology, telecommunications, and enterprise software.
Like reading Design News? Then have our content delivered to your inbox every day by registering with DesignNews.com and signing up for Design News Daily plus our other e-newsletters. Register here!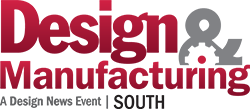 Design News will be in Orlando in November! Design & Manufacturing South will be in Orlando Nov. 18-19. Get up close with the latest design and manufacturing technologies, meet qualified suppliers for your applications, and expand your network. Learn from experts at educational conferences and specialty events. Register today for our premier industry showcase in Orlando.