Whether it's on the packaging line or in other areas of the factory floor, machine builders are seeking smaller from drives that deliver improved efficiency. In electronics, the smaller-is-better value had ruled for decades. Now that value has come to drives. In addition to efficiency, users seek drives that can either be decentralized or can consume less space in the cabinet.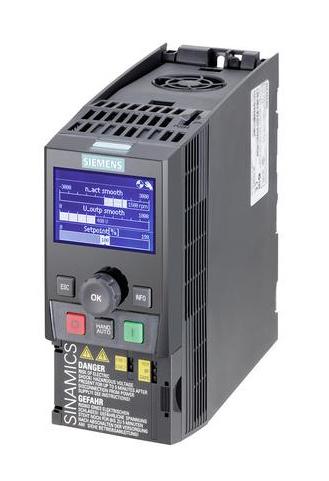 Sinamics G120C FSAA — the "Tiny Drive" in frame size AA from Siemens.
With this in mind, Siemens has introduced its Sinamics G120C drive in AA size, replacing the previous G120C frame size A in power ratings up to 2.2 kW (3 hp), including communication variants for USS, Profibus, Profinet, and EtherNet/IP. The goal is to create high power density in a smaller footprint. The new tiny drive was designed to be a fully compatible replacement for the equivalent power ratings on the previous version.
The move to Decentralized Drives
Siemens designed the tiny dives in response to changing customer needs. "These drives are a move to save space in the control cabinet with a smaller form factor, Craig Nelson, Sinamics product manager at Siemens, told Design News. "We are definitely seeing a widening market for decentralized drives, but for those who are hesitant to go to a decentralized model, this works for getting more into a smaller cabinet."
Nelson noted that decentralized drives are gaining traction, but it will be some time before they replace the centralized cabinet. "It's moving to decentralization, but it's moving slowly," said Nelson. "You have a new generation of decentralized drives that are more rugged. The biggest advantage is that the cabinet is either going to be minimalized or completely replaced."
Decentralization solves more than just space. It eliminates the problem of heat. "Not only do you eliminate the cabinet but you don't have to cool the cabinet," said Nelson. "When the drive is out on the machine, cooling is not a factor, and how much energy are you going to spend cooling the cabinet?"
Other benefits include use with increased motor cable lengths, up to 50m (165 ft) for shielded and 150m (495 ft) for unshielded, plus identical voltage ratings, current ratings, load cycles, and compatibility with all standard Siemens options such as operator panels, input and output chokes, as well as external Class B EMC filters. "The drive is going to be near or on the motor, so using short cables or eliminating cables makes this an attractive offering.
Efficiency Is Always Critical
While servo motors have gained in acceptance, there remains a large market for induction drives, especially as they become more efficient. "We're pushing the limit of how much more efficient we can get the induction motor," said Nelson. "The servo is an improvement, but it costs. So the synchronous reduction motors are evolving from product efficiencies to system efficiencies and that's where the standards are moving as well."
Nelson noted that the emphasis on smaller drives meets a number of user needs. "We're following the trends of what end users are looking for -- equipment that is safer, slimmer, and more efficient," he said. "The electricity costs have not gone down. Even with the move away from coal power, electricity is still important. It's not just the cost of energy. Efficiency guidelines are also pushing the developments of the drive."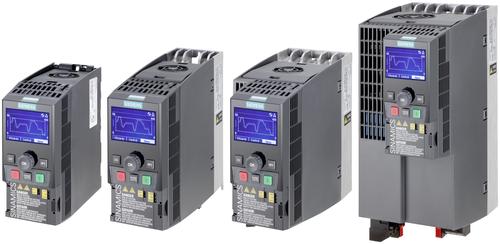 The AA version has a smaller footprint, up to 32% less volume, but it was designed to deliver comparable features to previous versions.
Efficiency is not just a cost-saver. It also matters in meeting regulations. "Everyone is looking for efficiency. The bigger push is coming from regulations," said Nelson. "The push is for efficient motors. You're also seeing people taking a more holistic view -- including in meeting regulations."
Nelson noted that new drives are getting deployed when it's time to replace aging equipment. "Generally people are looking for improved motors at the time of replacement, and they want to replace their equipment with a more efficient motor," he said. "Any motor across the line is going to have to meet the new guidelines."
One way to meet emerging guidelines is to aim for system efficiencies rather than just seeking efficiency in an individual part of the system. "When you see the system efficiencies, you can use a less efficient motor and it will be overall system improvement," said Nelson. "The most efficient system is when you're doing a true integration of the motor, the drive, and the box, with a reduction of the couplings."
[images via Siemens] Rob Spiegel has covered automation and control for 15 years, 12 of them for Design News. Other topics he has covered include supply chain technology, alternative energy, and cyber security. For 10 years he was owner and publisher of the food magazine Chile Pepper.