When Design News opened the Golden Mousetrap Awards site for entries back in July, you probably thought, "wow that's early; there is plenty of time to get our products in." Then summer turned to fall and you watched the deadline come and go.
But have no fear, we sympathize with the procrastinators (we've all been there) or those who just can't find enough hours in the day to get everything done (we hear ya), and we've extended the deadline.
But it's a one-shot deal, so be sure to get your entries in by Monday, Nov. 23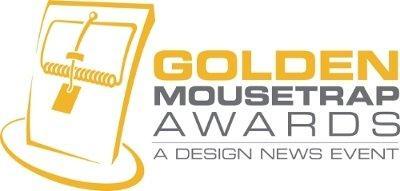 ENTER THE GOLDEN MOUSETRAP AWARDS TODAY!:
Click HERE for all the details and to enter this year's contest
For those of you not in the know, here are some details about the Golden Mousetrap Awards, Design News' honored tradition of recognizing and validating the vast and indispensable OEM and engineering sectors that keep US manufacturing and industry humming:
On Feb. 9, 2016, in conjunction with Pacific Design & Manufacturing, in Anaheim, Calif., Design News will host the 14th annual awards ceremony. There, our editors will reward achievements in the fields of Automation & Control; Design Hardware & Software; Electronics & Test; and Materials & Assembly. Click here for a full list of categories.
Benefits of entering include exposure in UBM Canon's family of publications, including Design News, Packaging Digest, Plastics Today, and MD+DI; inclusion in a national campaign promoting the awards, nominees, and winners in the form of press releases and social media buzz; as well as the rights to use and display the special Golden Mousetrap finalist and winner logos on your packaging and promotional materials. (Winners also get to flaunt their trophies in front of more than 500 industry professionals!)
To be eligible for entry, all products must be commercially available in the US - that is able to be ordered or purchased - between Sept. 1, 2014 and Oct. 1, 2015. Only products approved for marketing in the US are eligible.
Click here for a list of last year's winners and good luck -- we hope to see you in Anaheim, especially walking across our stage for the coveted award you know your company deserves!
Do you have a question not answered here? Email Jennifer Campbell before time runs out!
Jennifer Campbell is an award-winning journalist and the executive editor of Design News.
Like reading Design News? Then have our content delivered to your inbox every day by registering with DesignNews.com and signing up for Design News Daily plus our other e-newsletters. Register here!

Design engineers and professionals, the West Coast's most important design, innovation, and manufacturing event, Pacific Design & Manufacturing, is taking place in Anaheim, Feb. 9-11, 2016. A Design News event, Pacific Design & Manufacturing is your chance to meet qualified suppliers, get hands-on access to the latest technologies, be informed from a world-class conference program, and expand your network. (You might even meet a Design News editor.) Learn more about Pacific Design & Manufacturing here.