Ants are known for their abilities to work collaboratively and carry hundreds of times their body weight despite their tiny size. Inspired by this, researchers at Stanford University have developed microrobots that, like their insect counterparts, can pull large loads that outweigh them considerably not only alone but also by working together.
The robots, called MicroTugs and designed by a team at the university's Biometrics and Dextrous Manipulation Laboratory, are so strong they can even pull a Chevy Bolt -- as evidenced in this video:
Graduate student David Christensen, part of the team and a lead author on a paper about the work the team will present in May at International Conference on Robotics and Automation in Stockholm, explained to Design News that while the strength of the MicroTugs is what many note about their design, their ability to work as a team also is a key focus of the project.
"Often for microrobots, the argument goes, well if each robot is not very strong, we can just use a lot of them," he told us. "This is of course logistically challenging, but also harder than you think, as we discovered. As soon as we saw one strong robot working though, we knew we wanted to see what a team could do."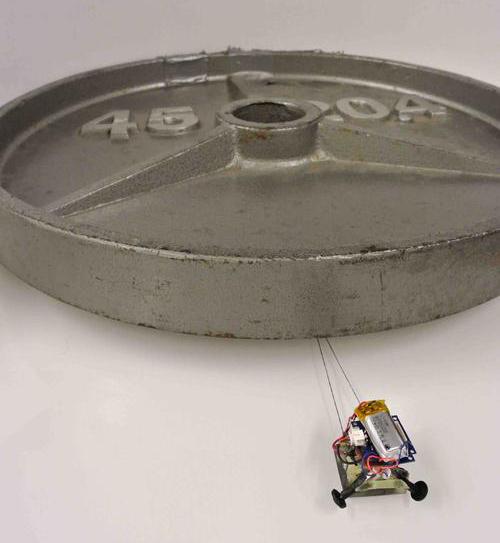 A MicroTug robot designed by a team at Stanford University's Biometrics and Dextrous Manipulation Lab pulls a weight much greater than its own.
(Source: Stanford University Biometrics and Dextrous Manipulation Lab)
While ants inspired the team to design MicroTugs to pull up to 2,000 times their own weight, they turned to a different organism for inspiration in how to connect the bots to the objects they pull. They created an adhesion inspired by the toes of geckos, which -- as anyone who has met the small lizards in real life knows -- are capable of nimbly and sure-footedly climbing walls.
How to make the robots move to achieve maximum strength potential also was a key point in the engineers' mind as they designed the MicroTugs, and a more difficult design goal to achieve, Christensen said.
[Learn more robotics trends and developments at Design & Manufacturing New England, April 13-14]
"Ants were always in our mind, but maybe less directly than you might think. There are lots of animals that use adhesion -- geckos for example -- so we knew we wanted that; the harder engineering challenge was figuring out how to make the actuators move," he said. "Ants have access to muscles and micro joints that engineers just frankly don't. That took several cycles to get to work."
In the end, the team decided on running to create the type of movement that allowed the robots to work best both alone and together to pull a heavy object. While individually the forces of this type of movement aren't very strong, they overlap with each other more easily to enable teamwork. In the video example, that object was the Bolt and its driver, the combined weight of which was 3,900 lb, or 1,800 kg. The team of six microrobots pulling the object weighed a mere .22 lb, or 100 gm.
Christensen said he envisions a number of real-world applications for the MicroTugs and similar robots. "Certainly toys are an obvious match for this work, but I think you could see small robots that are actually able to do things in the home instead of just move around," he said.
READ MORE ARTICLES ON ROBOTS:
For instance, the team already has shown how a robot could measure the light a plant was getting and move the plant around to track the sun. "The team capability just makes them even more flexible," Christensen said, adding that disaster relief is another potential application for the MicroTugs and similar robots.
The Stanford team will continue its work on the MicroTugs to add more intelligence to the adhesive system so the robots can function across a wider variety of conditions, Christensen said. They also will investigate the use of micro spines, not unlike what other insects use, for use in rough surfaces like concrete or asphalt.
Elizabeth Montalbano is a freelance writer who has written about technology and culture for more than 15 years. She has lived and worked as a professional journalist in Phoenix, San Francisco, and New York City. In her free time she enjoys surfing, traveling, music, yoga, and cooking. She currently resides in a village on the southwest coast of Portugal.