"By default the structure is not as complex as a six-axis robot; therefore we can provide very repeatable positions and path-following at very fast cycle times," Phil Crowther, global product manager for small robots for ABB Robotics, told Design News. "Repeatability is less than 10 microns in some cases. Regarding speed, we can reach cycles of less than 0.4 sec using the standard ISO method."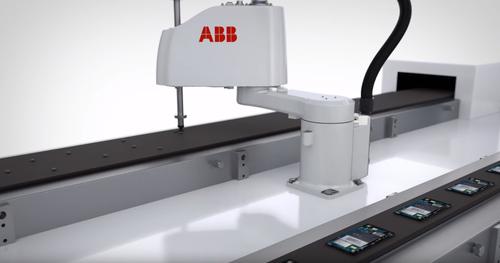 The IRB 910SC has a maximum payload of 6 kg, three different reach options, and is IP54-rated for optimum protection against dust and liquids. The single-arm robot is able to operate in a small work envelope and is tabletop mountable. All variants of the product line are modular by design, with differing linking arm lengths, allowing end users to specify the optimal reach required for a specific application.
Crowther said the new SCARA line is different than what is already on the market. The company's standard IRC5 robot controller controls the new SCARA robots; the IRC5 is being used in a wide range of motion control applications, from small parts assembly to the manufacture of entire cars.
A key to the IRB 910SC's design is its simplified mechanical configuration that creates a single-arm robot capable of operating in a confined footprint. Using SCARA, the new robot is designed for articulate point-to-point movements.
See the IRB910SC in action:
But its sweet spot is a class of manufacturing operations including small-parts assembly, material-handling, and parts inspection. Other applications such as tray kitting, component placement, laboratory automation, and prescription drug dispensing might also benefit from its rapid cycle times, high precision, and reliability, according to ABB.
While small in size, Crowther said the IRB 910SC robots incorporate the same high performance path control as other ABB small robots in a compact footprint.
Part of the significance of the IRB 910SC is that it is an example of the ongoing trend in robotics where manufacturers are developing standard mechanical configurations that eliminate the need for custom mechanical machine design, as well as in combining targeted mechatronic solutions with state-of-the-art controls.
The ability to provide standard, tested machine modules with mechanical configurations that target specific classes of applications seems to create sustainable, long-term value. More and more, we can expect to see robotic subsystems built more tightly into machinery designs and processes. If excellence in mechatronic performance is the goal, these types of solutions offer a tight integration of mechanics and motion control that is difficult to match with a more customized solution, as long as they are flexible enough to meet the needs of specific applications.
[image via ABB]
Al Presher is a veteran contributing writer for Design News, covering automation and control, motion control, power transmission, robotics, and fluid power.
Like reading Design News? Then have our content delivered to your inbox every day by registering with DesignNews.com and signing up for Design News Daily plus our other e-newsletters. Register here!