Tesla Motors says the construction of its giant Gigafactory is ahead of schedule, despite the electric automaker's growing financial trouble.
The Gigafactory, the key to the company's vision of producing an affordable electric car with a 200-mile range, could start delivering battery cells as early as the end of this year. It currently has a 800,000 square-foot footprint -- approximately 14% of its ultimate total.
Industry analysts say the Gigafactory's progress is a sign that Tesla plans to deliver on its plan of building 500,000 cars a year by 2018. "If Tesla wanted to be just a profitable company building EVs, they wouldn't be spending so intensely on this factory," Chris Robinson, research analyst at Lux Research, told Design News. "They could have easily checked out with the Model S, settled in on having a small- to medium-sized car company, and been profitable. But they have a bigger vision."
Click on the image below for more information on Tesla.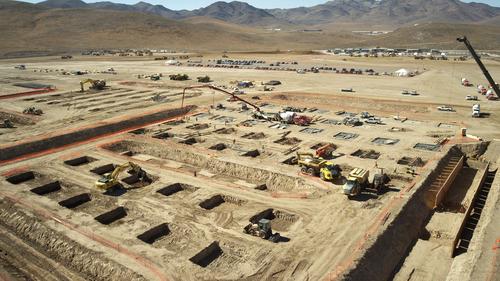 Tesla broke ground on its Gigafactory on June 26, 2014. The company expects to be producing lithium cells later this year.
(Source: Tesla Motors)
Indeed, Tesla's vision is big. The company claims the finished Gigafactory will have the biggest footprint of any building in the world. It will employ about 6,500 people and will produce more lithium batteries annually than were produced worldwide in 2013. And by the end of the first year, the company says, its economies of scale will have driven down the cost of battery packs by more than 30%.
"We will meet our capacity targets two years early and are forecasting the ability to triple the output of the factory," Tesla said. "We will be able to achieve this through aggressive factory design, density, and manufacturing efficiencies."
As the company pours money into the factory, however, its losses are mounting. Various news organizations recently reported that Tesla had a second-quarter loss of $293.2 million -- about 60% more than a year ago. Reuters described it as the company's 13th straight quarterly loss.
Given the automaker's track record of delays and quality issues, particularly with its Model X, analysts are concerned about the aggressive scale-up. "The challenge is in scaling up in such a short timeframe and not having the same quality assurance issues they've had in the past," Robinson told us.
The Gigafactory, along with the company's forthcoming Model 3 electric car, is said to be the key to Tesla's "secret master plan" to accelerate the world's transition to sustainable energy. By driving down the cost of lithium battery technology, the Gigafactory reportedly will enable Tesla to market an all-electric car with a 215-mile range and a price tag of $35,000 before government incentives. By 2018, Tesla plans to build and sell 500,000 of the vehicles per year.