In the wake of the death legendary musician Prince, no doubt many details of the his often enigmatic lifestyle and persona will emerge. Many Prince fans will be surprised to know that the great singer-songwriter was heavily involved in charities and organizations that promoted STEM (science, technology, engineering, and mathematics) as well as green technology.
As a Jehovah's Witness, Prince was apparently forbidden by his religion from speaking openly about his philanthropic work, but Van Jones, a political commentator and also lawyer and personal friend to Prince revealed the extent of Prince's charitable work in STEM in a series of interviews. Jones added that Prince would often perform concerts in Oakland and other cities as a cover so that he could directly check in on some of the organizations and groups he supported.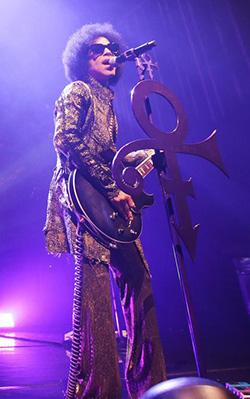 In a rarely seen keynote address given at the 2014 Essence Music Festival, Jones talked about the launch of #YesWeCode an Oakland, Calif.-based initiative funded with the mission to "connect lower-opportunity young adults to high-paying careers in technology" by training them to become coders.
Jones said the idea for #YesWeCode came in the wake of the controversial Trayvon Martin verdict. "After the Trayvon Martin verdict I was talking to Prince and he said, 'You know, every time people see a young black man wearing a hoodie, they think, he's a thug. But if they see a young white guy wearing a hoodie they think, oh that might be Mark Zuckerberg ...'" Jones said.
While Jones pointed the finger at racism, Prince's response was that more needed to be done to prepare youth of color for the technology sector. "... it's because we have not produced enough black Mark Zuckerbergs," Prince told Jones. "That's on us. To deal with what we're not doing to get our young people prepared to be a part of this new information economy."
In an interview with Dr. Drew on HLN, Jones also spoke of Prince's involvement in another Oakland-based organization, Green For All, whose mission is to "build an inclusive green economy strong enough to lift people out of poverty."
"Our goal is to make sure people of color have a place and a voice in the climate movement. That our neighborhoods are strong, resilient, and healthy. That as the clean energy economy grows, it brings jobs and opportunity to our communities," a statement on Green For All's website reads. The organization is currently involved in initiatives to make African American churches more green as well as advocating heavily on behalf of victims of the Flint, Mich. water crisis.
"You've got people with solar panels on their house right now that don't know Prince paid for them." Jones told Dr. Drew in an emotional interview. "... I was the face of those programs but it was his heart, it was his money ... Prince gets a phone call returned faster than President Obama."
Prince (real name Price Rogers Nelson) died unexpectedly on April 21 due to as-yet-undisclosed causes. Since his passing the website for #YesWeCode has posted a thank-you message to the late performer: "#YesWeCode would like to honor Prince and thank him for his inspired vision for #YesWeCode. Prince's commitment to ensuring young people of color have a voice in the tech sector continues to impact the lives of future visionaries creating the tech of tomorrow."
Watch Van Jones' interview with Dr. Drew:
Chris Wiltz is the Managing Editor of Design News
[Image source: NPG Records / Chelsea Lauren / Warner Bros. Records press]