Partially depleted Chevy Volt batteries might find new life one day in energy storage applications outside the vehicle, such as parceling out power to homes during blackouts.
General Motors has entered a pilot program with the residential energy provider Duke Energy to put lithium-ion batteries to work in grid test demonstrations. To learn more about the concept's viability, Duke plans to use a module incorporating five Chevy Volt batteries. "Duke will look at the cost efficiencies and utility of the system to determine whether they can use it in more applications in the future," Kevin Kelly, a spokeman for GM, told us.
Though little is known about Duke's test application, GM says that five Volt batteries, packaged together in a single module, could provide two hours of electricity for five average American homes. In a recent off-grid demonstration using an energy storage inverter from ABB, a prototype module supplied 50kWh of energy to support lighting and audiovisual equipment.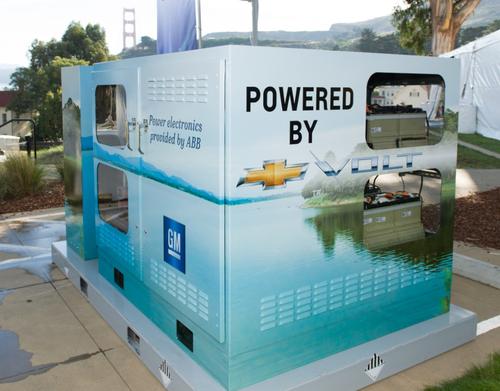 A module with five used Chevy Volt batteries could provide two hours of electricity
to five average American homes.
(Source: GM)
GM engineers say Volt batteries could supply an additional 15 years of energy, even after the cells can no longer be used in a vehicle. The key to such ongoing capability is the way EV batteries are being designed and used in electric cars. To minimize warranty costs, today's EV manufacturers typically make their batteries much larger than they need to be. The batteries operate within large buffer zones, which enhance their automotive life by preventing them from reaching a fully charged or fully discharged state. As a result, the batteries may still have 70 percent of their capacity remaining when they reach the end of their useful automotive life.
Nissan Motor Co., maker of the Leaf electric car, is investigating using its 24kWh lithium-ion batteries in similar applications.
Industry analysts say the concept needs years of testing before it can be called viable. "We're still in the early days of electric vehicle battery usage," Cosmin Laslau, an analyst for Lux Research, told us.
It's probably going to be another five to 10 years before we can fully quantify and understand the wear on the batteries. Right now, we don't really know what a Chevy Volt or Nissan Leaf battery would look like after a decade of real-world use. Even with accelerated testing, it's still difficult to predict.
GM envisions the batteries serving in residential subdivisions near local transformers to provide energy for homes during blackouts or brownouts. Utilities might also use the batteries as a form of storage to back up intermittent renewable sources, such as wind and solar. GM hopes the concept will help delay the inevitable recycling of used EV batteries. "The last thing we are looking at today is recycling," Kelly said. "Secondary life is our focus right now."
Industry analysts say there may be a long wait before anyone knows if utilities will accept the concept. "There's a limited volume of EVs out there right now," Laslau said. "There are thousands of batteries available, but in the grand scheme of things, that's a drop in the bucket for the grid. Until EV sales really pick up, it's going to be hard to get the attention of the major players in the grid space."
Related posts:
{doclink 236610}
{doclink 222703}
{doclink 235241}
{doclink 241175}
{doclink 241552}
{doclink 240363}
{doclink 239692}
{doclink 240075}
{doclink 238863}
{doclink 231504}