Hyundai Motor America took a small step into the futuristic world of fuel cells last week, handing over the keys to the first customer of its hydrogen-powered car.
Known as the Tucson Fuel Cell CUV, the new car is said to be the first mass-produced vehicle of its type. Hyundai plans to build and lease approximately 1,000 of them by the end of 2015.
Experts caution, however, to not read too much into the event. "For the average consumer, this isn't going to be a viable option in the near term," Cosmin Laslau, research analyst at Lux Research Inc., told Design News. He added that the cost of hydrogen fuel is still too high, infrastructure too sparse, and the vehicle itself too costly.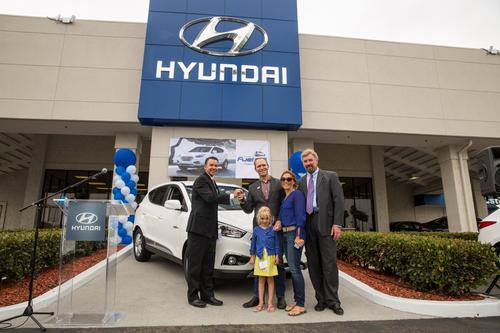 In a ceremony at a California dealership, Hyundai executives handed the keys to the first customer of the Tucson Fuel Cell CUV.
(Source: Hyundai Motor America)
Hyundai is believed to be absorbing much of the initial cost of the cars. It leases them for $499 per month to Californians, who must live within range of nine hydrogen refueling stations, mostly in Los Angeles and Orange Counties. The lease term for the vehicles is three years, 36,000 miles.
Lux Research expects production of such cars to be miniscule until the initial cost comes down. "The vehicles need to get to a price point of $30,000," Laslau told us. "Right now, we believe they are a factor of two to three times more than that."
In a press release, Hyundai said it introduced the Tucson Fuel Cell "to alleviate the limitations of traditional battery electric vehicles." The new vehicle offers a driving range of 265 miles, is capable of refueling in less than 10 minutes, and exhibits minimal cold weather effects, making it a superior alternative to an electric car with a big battery, the company claims.
But much remains before fuel cell vehicles can compete with battery-electric cars. Refueling stations are virtually non-existent in most parts of the country, making it almost impossible for automakers to sell the vehicles in many locales. Moreover, the cost of stations is believed to be as much as $1.5 million apiece, making the uptake more difficult.
"For the infrastructure to get started, there's going to be a huge bill to be paid, and it's unclear who will be willing to foot that bill," says Laslau.
For its new Tucson Fuel Cell customers, Hyundai has announced it will pay all refueling and maintenance costs. The company considers that action appropriate, given the fact that hydrogen infrastructure is still being built out.
Hyundai is one of several automakers now working on fuel cell vehicles. Honda recently rolled out a concept fuel cell vehicle and announced plans to launch a hydrogen-powered production car by 2015. Similarly, Toyota has said it plans to market a fuel cell car in 2015. And General Motors has entered into a collaborative arrangement with Honda to develop next-generation fuel cells and hydrogen storage technologies for the 2020 time frame.
Still, automakers recognize that the road to widespread fuel cell success will be a long one. "For hydrogen vehicles to be attractive, they will have to hit some very aggressive price points," Laslau tells us. "We don't see that happening in the near term."
Related posts:
{doclink 273195}
{doclink 273177}
{doclink 273118}
{doclink 272964}
{doclink 272261}
{doclink 272232}
{doclink 271945}
{doclink 271873}
{doclink 271839}
{doclink 271798}
{doclink 271730}
{doclink 271549}
{doclink 270926}
{doclink 270462}
{doclink 270380}
{doclink 270331}
{doclink 270295}
{doclink 270173}
{doclink 269821}
{doclink 269396}
{doclink 269077}
{doclink 268739}
{doclink 268557}
{doclink 268473}
{doclink 268362}
{doclink 268127}
{doclink 267926}
{doclink 267878}
{doclink 267833}
{doclink 267339}
{doclink 267317}
{doclink 266142}
{doclink 266450}
{doclink 266188}
{doclink 266061}
{doclink 265790}
{doclink 265529}
{doclink 265394}
{doclink 265157}
{doclink 264712}
{doclink 263072}
{doclink 261927}
{doclink 261782}
{doclink 261236}
{doclink 260529}
{doclink 259550}
{doclink 258495}
{doclink 258113}
{doclink 257628}
{doclink 256966}
{doclink 255754}
{doclink 255564}
{doclink 255380}
{doclink 255191}
{doclink 255091}
{doclink 254150}
{doclink 252881}
{doclink 251534}
{doclink 251483}
{doclink 250517}
{doclink 250256}
{doclink 249928}
{doclink 249519}
{doclink 248442}
{doclink 246722}
{doclink 246644}
{doclink 245676}
{doclink 245442}
{doclink 244906}
{doclink 244832}
{doclink 244669}
{doclink 242498}
{doclink 242424}
{doclink 242108}
{doclink 241552}
{doclink 241175}
{doclink 240962}
{doclink 240363}
{doclink 240303}
{doclink 239766}
{doclink 238863}
{doclink 237768}
{doclink 237698}
{doclink 237534}
{doclink 237329}
{doclink 237015}
{doclink 236557}
{doclink 235252}
{doclink 235241}
{doclink 235140}
{doclink 234687}
{doclink 234367}
{doclink 234251}
{doclink 233282}
{doclink 233004}
{doclink 229120}
{doclink 228520}