Don't want to wait for the snail-mail edition of September's Design News to hit your doorstep? Then read our free digital editions right now.
You can navigate through the September 2011 issue of Design News using the forward and back buttons in the top left corner. Additional navigational tools at the bottom enable you to view the contents or to quickly scroll through thumbnails of all the pages. To download the PDF version, click on the icon in the upper-right-hand corner.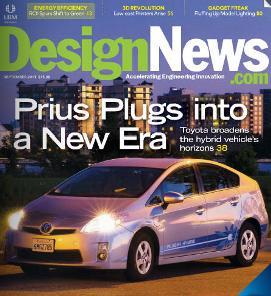 This month's highlights include our cover story on the upcoming plug-in electric Prius by senior technical editor Charles Murray. (It's also posted on the site here, but there are additional pictures in the e-magazine version.) I believe Chuck has become the foremost journalist covering new car technologies, and he's always worth reading.
"Design Tools Get the Human Touch" is the next piece you'll want to read. Contributing CAD editor Beth Stackpole writes about how the trend towards increasingly feature-rich design tools is now giving way to a focus on usability. My skeptical nature leads me to wonder if this is perhaps temporary and simply part of the cyclical back-and-forth between what tools theoretically can do -- 90% of which you'll never try at home -- and what they're used for on a daily basis.
Following page 62, we've got a great supplement on Mechatronics. It's entitled "Miniaturization Muscles into Medical Devices" and starts with a Zigbee-based patient-monitoring system.
I hope you'll download and devour all the articles I've mentioned above, along with the rest of the issue. When you're done, I hope you'll send me your feedback and suggestions. Email me at [email protected].
I also invite you to register on this site -- something that over 2,200 of your colleagues have done since our relaunch in July -- and join our growing and increasingly vibrant online community. As well, you can register to subscribe to our print issue here.