Don't want to wait for the snail-mail edition of July's Design News to hit your doorstep? Then check out our free digital editions. Read our online e-magazine or download the pdf, both freshly posted.
Click on the link to access Design News, July. A new browser window will open with the e-magazine. You can navigate through the issue using the forward and back buttons at top left. Additional nav tools at the bottom enable you to view the contents or to quickly scroll through thumbnails of all the pages. To download the pdf version, click on the icon in the upper-right-hand corner.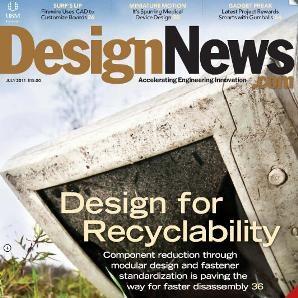 This month's highlights include our cover story on "Design for Recyclability," by senior technical editor Doug Smock. Component reduction through modular design is paving the way for products that can be disassembled faster. The technique is obviously more environmentally friendly at the end of the product life. But it also makes for easier repair and maintenance, which I believe is the big immediate win.
"Boom Time for Lithium Batteries" is the next piece you'll want to read. Senior technical editor Charles Murray looks at the new breed of flexible, high-energy power sources, which are shaping the next generation of portable electronic devices.
Our supplement on "Networking Trends in Automation" is another issue highlight. Our dive into hardened, robust switches and routers begins on page 69.
I've also reprised my welcome message to our relaunched, community enabled Design News Website.
I hope you'll download and devour all the articles I've mentioned above, along with the rest of the issue. When you're done, I hope you'll send me your feedback and suggestions. Email me at [email protected].
I also invite you to register on this site, and join our growing and increasingly vibrant online community.