Infolytica Corp. recently announced an add-in of its MagNet electromagnetic field simulator for Dassault Systemes' SolidWorks, giving new electrical design tools embedded within the 3D CAD platform. The capabilities delivered by the new add-in illustrate the value of a large partner program, and a win-win for all parties: Dassault, Infolytica, and the design engineer who works on products that have power transformers, sensors, actuators, and solenoids.
MagNet for SolidWorks is a 3D electromagnetic field solver that allows a designer to simulate and analyze an electromagnetic device from within the SolidWorks environment and make geometric modifications to examine their impact on the design without exporting model data and dealing with compatibility issues. It includes a circuit designer that allows the designer to add and wire together components such as transformers and actuators. The add-in also includes new libraries of steel and magnetic materials, and Infolytica has reportedly improved MagNet's mesh controls, material assignment functions, and field visualizations.
Infolytica offers a stand-alone version of MagNet, which is a CAE tool with a different interface experience than that of SolidWorks. Chad Ghalamzan, Infolytica's marketing manager, told Design News that the company launched the SolidWorks add-in as a complementary product to the stand-alone MagNet application. "Not all engineers or design problems require the full set of capabilities that MagNet offers," he said. "We tailored a set of features and analysis capabilities to a group of users who require the analysis (portion) without wanting to master the full MagNet."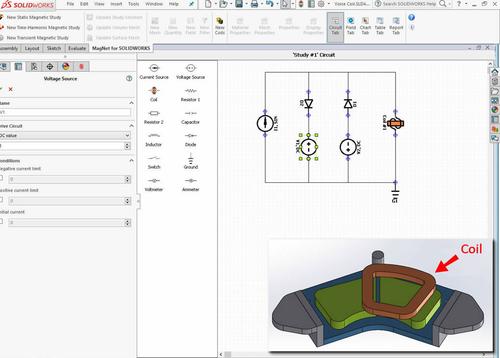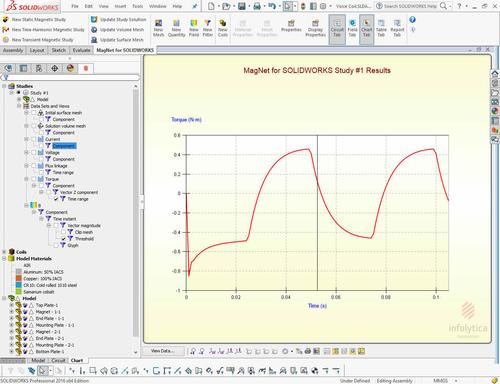 MagNet add-in from Infolytica enables SolidWorks users to study both the electromagnetic and mechanical effects of an electromagnetic coil in the native solid modeling environment.
(Source: Infolytica)
Whether an engineer goes with the full version or the SolidWorks version will depend on the needs and the requirements of their industries, Ghalamzan said. The basic decider? "How often and how much does electromagnetic field simulations factor into their workflows and expertise?" he said.
Ghalamzan said SolidWorks was Infolytica's first choice for a CAD partner due to the former's robust network of more than 300 solution partners that produce tools and applications that extend the capabilities of the design and data management solution.
Tony Glockler, CEO of SolidProfessor, also a certified solution partner for SolidWorks, told Design News that "a strong partner program is a huge benefit to the customer," because "there are only so many capabilities the CAD vendor can or should spend their development resources on." He added that a robust partner program can produce better capabilities and solutions where the primary software developer is not making investments or perhaps is falling short. SolidProfessor's add-in for SolidWorks provides on-demand CAD training and knowledge resources.
READ MORE CAD ARTICLES ON DESIGN NEWS:
Glockler said the kinds of challenges that add-in developers face include the pace of updates. "The relentless software updates from the CAD vendors keep us busy, no doubt," he admitted. "It's not uncommon that some partners may not be able to keep pace of introducing new capabilities with each (primary) software release, because they don't have the same development budgets of the big CAD vendors." This means that the CAD user needs to conduct due diligence before purchasing an add-in.
Still, one of the benefits of a strong partner ecosystem is a certain level of built-in quality assurance. "The SolidWorks partner program sets minimum requirements (for partners) to achieve Solution Partner and Gold Partner levels," Glockler said. "In general, that will provide a high level of quality. However, not all products are the same."
Al Bredenberg is a writer, analyst, consultant, and communicator. He writes about technology, design, innovation, management, and sustainable business, and specializes in investigating and explaining complex topics. He holds a master's degree in organization and management from Antioch University New England. He has served as an editor for print and online content and currently serves as senior analyst at the Institute for Innovation in Large Organizations.
Like reading Design News? Then have our content delivered to your inbox every day by registering with DesignNews.com and signing up for Design News Daily plus our other e-newsletters. Register here!

Design engineers and professionals, the West Coast's most important design, innovation, and manufacturing event, Pacific Design & Manufacturing, is taking place in Anaheim, Feb. 9-11, 2016. A Design News event, Pacific Design & Manufacturing is your chance to meet qualified suppliers, get hands-on access to the latest technologies, be informed from a world-class conference program, and expand your network. (You might even meet a Design News editor.) Learn more about Pacific Design & Manufacturing here.