We've already told you about several efforts from researchers and companies to add solar-energy harvesting materials to windows and glass to create more options to leverage solar energy in buildings and even on mobile devices. Now a UK-based consortium is working to develop building integrated photovoltaic windows/glass panels with integrated photovoltaics that not only can generate solar power but also provide thermal control.
The Centre for Process Innovation (CPI), Merck, and Polysolar are the entities that have formed the partnership, which aims to develop what are called building integrated photovoltaic (BIPV) devices. Innovate UK funded the project -- called "Power Generating & Energy Saving Windows" -- for which Merck will provide the materials, CPI will make and test the devices, and Polysolar will develop the production process for the modules and end-user applications, Steven Bagshaw, a marketing executive at CPI, told Design News.
Photovoltaics in windows is an emerging technology, and the project will be key to developing it from the prototype scale to reach manufacturing volumes and performance characteristics that industry adoption requires, he said. "The collaboration is also bringing together key players in the supply chain and will provide linkage in terms of infrastructure and expertise to make this technology reach the mass market," Bagshaw said.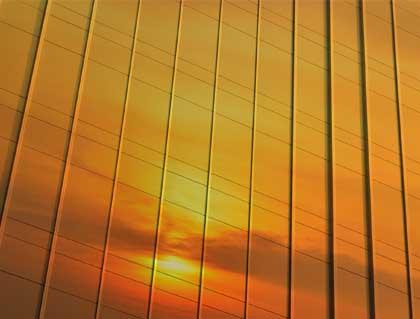 A UK-based consortium is developing windows with integrated photovoltaics. Integrated PVs --- in which solar-energy harvesting materials are built directly into windows and glass -- are the future of building and construction.
(Source: CPI)
Specifically, the consortium will aim to make photovoltaics more suitable for building integration by delivering characteristics such as transparency, aesthetics, color, and base material, he said.
CPI and the two companies also will advance photovoltaic production in a more general way by enabling cost-effective, small-scale localized batch processing through printing. Performance enhancements also will be addressed, with the consortium aiming to widen the range of PVs in low-light scenarios or to capture specific wavelengths, Bagshaw said.
"The output of the project will be to produce large-scale organic photovoltaic devices using sustainable, low-cost manufacturing processes," said Dave Barwick, principal scientist at CPI. "Once concluded, the project will provide the industry with the required lifetimes, dimensions, and price points needed to evaluate how to take this emerging technology to market."
READ MORE ARTICLES ON SOLAR ENERGY:
The construction industry worldwide is facing increased regulations and demand to develop zero-carbon buildings and have more environmentally friendly practices and methods. BIPVs help address these interests in several ways, two of which are key -- they can generate power and also control the temperature of buildings to maximize energy efficiency in other ways.
"Currently architects are constrained in the amount of window glazing they can use to maximize natural light due to the high thermal gains and losses through glass," Bagshaw explained. "The OPV glass significantly reduces the heat gain -- reducing air-conditioning loads and heat loss. The commercialization of such a windows will reduce building energy costs while offering architects greater freedom in structural design and aesthetics."
Solar-glazing panels are easy to install in conventional framing, which makes them suited for use not only in windows but also skylights, facades, and roofing, he added. The development of these panels not only will benefit the construction industry, but could lead to "disruptive" products in other sectors because they are adaptable, lightweight, transparent, and low-cost, Bagshaw said.
The consortium expects OPV glass to be widely available sometime in the next three years.
Elizabeth Montalbano is a freelance writer who has written about technology and culture for more than 15 years. She has lived and worked as a professional journalist in Phoenix, San Francisco and New York City. In her free time she enjoys surfing, traveling, music, yoga and cooking. She currently resides in a village on the southwest coast of Portugal.