CD-adapco, the provider of CAE simulation software, has released v10.06 of its Speed machine design package, with an update to its 3D modeling solution. Also key to this new version of Speed is an improved connection to Heeds MDO, CD-adapco's process automation and optimization tool.
CD-adapco executives told Design News in an interview that this closer tie between Speed and Heeds MDO is an important step toward "multidisciplinary design exploration," or so-called MDX, an automated process for designing electric machines that should make it easier for engineers to collaborate and develop more efficient machines.
Speed is an analysis tool used for sizing and preliminary design of such machines as motors, generators, alternators, actuators, and pumps, as well as for assessing the effects of parameter changes, such as those on existing machines. The v10.06 of the package uses Python scripting to provide a library linking it with Heeds MDO, said to make analysis more easily available for optimization studies.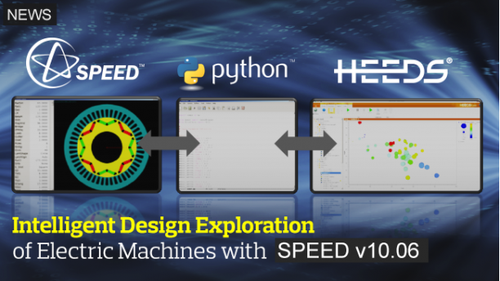 (Source: CD-adapco)
Sabine Goodwin, director of product marketing at the company, said it is a useful tool for expediting machine designs, with the goal of accomplishing better designs faster. "When you're a design engineer, what you really want to be able to do is predict how your design changes will affect the performance of your product," she said.
Design teams use Heeds MDO to automate the development of design iterations based on a set of targets and criteria, such as mass, cost, performance, and manufacturability. The tool is said to allow teams to explore all of the possibilities within a statistical design space and to search for better solutions instead of iterating one process at a time through trial and error.
Markus Anders, sector manager for electric machines at CD-adapco, gave an example during a December presentation. Suppose an engineer wants to improve the design of a customer's motor to increase its power at the rated load, increase efficiency, and reduce cost. He or she can import the motor's Speed model into Heeds, which can be used to graphically analyze the results of a large number of iterations for achieving the power, efficiency, and cost objectives using design variables such as rotor slot depth and opening; rotor tooth depth, angle, and width; stator yoke depth and pole width; and rotor turns and stack length. A bubble chart allows the engineer to evaluate a range of solutions in terms of shaft power, efficiency, and cost.
The development team has been focusing its efforts on improving the integration of the tool with other CD-adapco products. Besides improving the connection with Heeds MDO, the v10.06 release reportedly allows better combined workflows between Speed as an electromagnetic design tool and Star-CCM+, the company's software for solving flow, thermal, and stress problems.
READ RELATED ARTICLES ON DESIGN NEWS:
Besides the major enhancements integrating Speed with other CD-adapco tools, the development team put in a number of refinements and bug fixes in v10.06 based on customer requests. Anders said the company schedules four major releases per year for Speed.
In January, industrial giant Siemens AG announced that it was acquiring CD-adapco for $970 million. Design News asked CD-adapco representatives how the acquisition would affect development plans for Speed. They declined to comment, but the Siemens announcement said that it is expanding its portfolio of industry software and that model-based simulation is a key target. CD-adapco's technologies will be integrated into the product lifecycle management (PLM) business of Siemens' Digital Factory Division.
According to CD-adapco, its products are used at 14 of the 15 largest automakers worldwide, at all top 10 aerospace suppliers, and at nine of the top 10 energy and marine manufacturers.
Al Bredenberg is a writer, analyst, consultant, and communicator. He writes about technology, design, innovation, management, and sustainable business, and specializes in investigating and explaining complex topics. He holds a master's degree in organization and management from Antioch University New England. He has served as an editor for print and online content and currently serves as senior analyst at the Institute for Innovation in Large Organizations.