The little-known and largely undervalued hydraulic hybrid could play a role in heavy-duty trucks over the next 10 years, and may even find application in next-generation cars, a new study says.
The study, "Hydraulic Hybrid Vehicles," predicts that sales could climb to more than 60,000 vehicles a year by 2025, or remain under 10,000 annually, depending on whether the technology trickles down to automobiles. "There are high hopes that a joint venture between PSA Peugeot Citroen and Bosch will bear fruit and prompt other volume manufacturers to follow," wrote David Alexander, senior research analyst and author of the study for Navigant Research. "However, if no company takes this critical step, then the technology will remain on the shelf indefinitely, labeled as little more than an interesting experiment."
Hydraulic hybrid technology is, in broad theory, similar to electric hybrid technology. Instead of storing energy in a big lithium-ion battery, however, it uses a hydraulic pump-motor, reservoir, and accumulator in combination with an internal combustion engine. Energy is stored in the accumulator by using hydraulic fluid to compress a gas, usually nitrogen. During acceleration, the stored energy from the accumulator helps launch the vehicle. The big advantages are that a hydraulic hybrid is far more efficient than an electric hybrid at capturing braking energy, and that it eliminates the need for a costly lithium-ion battery.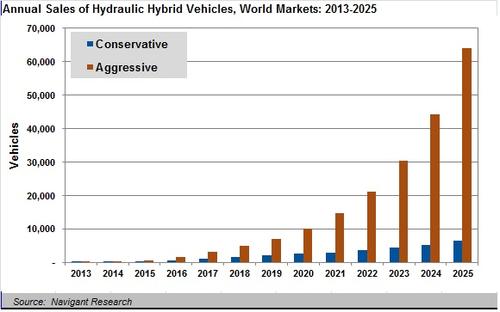 Navigant Research's study was broken into conservative and aggressive scenarios. The aggressive scenario assumes the success of hydraulic hybrids in automobiles, as well as in heavy-duty vehicles.
(Source: Navigant Research)
"Everyone we talked to said the technology is reliable, offers good performance, and costs a lot less than electric hybrid technology," Alexander told Design News. "You get the benefits when you're starting and stopping a lot, so it's good for garbage trucks, delivery trucks, and city buses."
Several companies are working on, or testing, hydraulic hybrid vehicles. PSA Peugeot is teaming with Bosch to develop an automobile that could reach production by 2016. Altair Engineering is working with Parker Hannifin on a hydraulic hybrid transit bus. Caterpillar now markets a hydraulic hybrid excavator. United Parcel Service (UPS) has deployed 40 hydraulic hybrid vehicles. In tests, UPS has said that the vehicles get a 35 percent fuel economy boost while reducing emissions by 30 percent.
The wild card, however, could be the Peugeot-Bosch application. In that, the hydraulics provide an acceleration boost, enabling engineers to reduce the size of the car's engine. Peugeot claims that the technology provides a cost savings of 45 percent in city driving, "offering a 90 percent increase in range in comparison with conventional engines."
Hydraulic hybrid technology does face hurdles, however. It could never meet zero-emission vehicle mandates, since it would always be used in conjunction with internal combustion engines. Moreover, it's not well known and is sometimes misunderstood. "The image of hydraulics will always be of dripping fluids and loud activation," Alexander told us. "And electricity always has the image of being clean and efficient."
Navigant broke its study down to two scenarios -- one conservative and the other aggressive. In the conservative scenario, the technology would be confined to heavy-duty vehicles ranging from garbage trucks, to delivery vehicles, to shuttle buses. But while that scenario calls for steady growth, it predicts rather small adoption numbers.
Navigant's aggressive scenario, meanwhile, is heavily dependent on the success of the Peugeot-Bosch effort. "This is the first time anything like this has been attempted," Alexander said. "If it's successful, we could see numbers an order of magnitude larger. It could potentially change the market for these vehicles."
Related posts:
{doclink 268362}
{doclink 268127}
{doclink 267926}
{doclink 267878}
{doclink 267833}
{doclink 267339}
{doclink 267317}
{doclink 266142}
{doclink 266450}
{doclink 266188}
{doclink 266061}
{doclink 265790}
{doclink 265529}
{doclink 265157}
{doclink 264712}
{doclink 263072}
{doclink 261927}
{doclink 261782}
{doclink 261236}
{doclink 260529}
{doclink 259550}
{doclink 258495}
{doclink 258113}
{doclink 257628}
{doclink 256966}
{doclink 255754}
{doclink 255564}
{doclink 255380}
{doclink 255191}
{doclink 255091}
{doclink 254150}
{doclink 252881}
{doclink 251534}
{doclink 251483}
{doclink 250517}
{doclink 250256}
{doclink 249928}
{doclink 249519}
{doclink 248442}
{doclink 246722}
{doclink 246644}
{doclink 245676}
{doclink 245442}
{doclink 244906}
{doclink 244832}
{doclink 244669}
{doclink 242498}
{doclink 242424}
{doclink 242108}
{doclink 241552}
{doclink 241175}
{doclink 240962}
{doclink 240363}
{doclink 240303}
{doclink 239766}
{doclink 238863}
{doclink 237768}
{doclink 237698}
{doclink 237534}
{doclink 237329}
{doclink 237015}
{doclink 236557}
{doclink 235252}
{doclink 235241}
{doclink 235140}
{doclink 234687}
{doclink 234367}
{doclink 234251}
{doclink 233282}
{doclink 233004}
{doclink 229120}
{doclink 228520}