Mimicking aspects of photosynthesis using both biology and chemistry was the goal of a team of cross-discipline Harvard scientists who have invented a bionic leaf that can turn solar energy into fuel.
The artificial-leaf system developed by the team -- which spanned Harvard's Faculty of Arts and Sciences, Harvard Medical School, and the Wyss Institute for Biologically Inspired Engineering -- uses bacteria to turn solar energy into the liquid fuel isopropanol.
Though researchers aren't sure of commercial applications for the system yet, it does prove that solar energy can be harvested and then stored as fuel that can be reused later, said Pamela Silver, a professor of biochemistry and systems biology at Harvard Medical School and a co-author of a paper published about the work in the journal, PNAS. It also has implications for combining inorganic and organic elements to develop other materials, researchers said.
Silver explained to Design News how the system integrates an artificial leaf -- which uses a catalyst to make sunlight split water into hydrogen and oxygen -- and a bacterium to convert carbon dioxide plus hydrogen into isopropanol.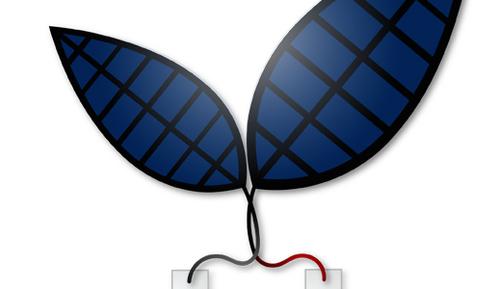 A cross-disciplinary team of scientists at Harvard University have invented a bionic leaf that mimics photosynthesis to turn solar energy into fuel.
(Source: Harvard University)
"The key component is the electrocatalyst developed by Dan Nocera (a professor of energy) at Harvard University," she said. "The second key component is the bacteria Ralstonia. Dan's formidable discovery of the catalyst really set this off, and we had a mission of wanting to interface some kinds of organisms with the harvesting of solar energy. It was a perfect match."
Silver and Nocera began collaborating two years ago based on their shared interest in creating personalized forms of energy. "It's not like we're trying to make some super-convoluted system," Silver said. "Instead, we are looking for simplicity and ease of use."
Once the artificial leaf produces oxygen and hydrogen, the hydrogen is fed to the Ralstonia eutropha bacterium. An enzyme takes the hydrogen back to protons and electrons, then combines them with carbon dioxide to replicate, making more cells.
Next, new pathways in the bacterium are metabolically engineered to make isopropanol. This phase is based on discoveries made earlier by Anthony Sinskey, an MIT professor of microbiology and health sciences and technology, according to researchers.
READ MORE ARTICLES ON SOLAR ENERGY:
The advantage of using an inorganic catalyst with biological materials is an "unprecedented platform for chemical synthesis that you don't have with inorganic catalysts alone," said Brendan Colon, a paper co-author and graduate student in systems biology working with Silver. The same principles not only can be applied to energy and fuel systems, but also can produce drugs such as vitamins in small amounts, Silver added.
So far researchers have achieved nearly a 1% efficiency rate -- the same as is possible in photosynthesis -- to convert solar energy into isopropanol with the bionic leaf. Silver and her team plan to continue their work to optimize the catalyst and the bacteria to achieve 5% efficiency to turn sunlight into biomass, she said.
Elizabeth Montalbano is a freelance writer who has written about technology and culture for more than 15 years. She has lived and worked as a professional journalist in Phoenix, San Francisco, and New York City. In her free time she enjoys surfing, traveling, music, yoga, and cooking. She currently resides in a village on the southwest coast of Portugal.