A January update to Autodesk's Fusion 360 introduced thermal and thermal stress studies to its simulation workspace, as well as numerous improvements to modeling, rendering, and collaboration tools.
Daniel Graham, senior product manager for Fusion 360, told Design News in an interview that the new update fits into Autodesk's longer-term strategy of making the cloud-based solution more integrated, connected, and accessible.
A more integrated Fusion 360 will better tie together the platform's functionalities and allow designers to explore and iterate product designs more quickly, Graham stressed. A more connected solution will improve collaboration among project teams and stakeholders and expedite sharing of designs and data.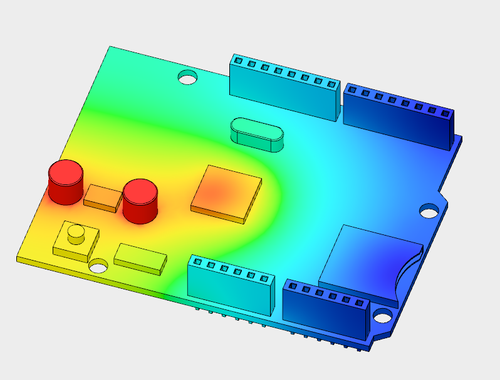 By better accessibility, Graham means that Fusion 360 is becoming "easy to use and easy to get going," whether the user is accessing the application through a Web browser, desktop, or mobile device. "They'll have better access to their data and be able to interrogate it wherever they are and on whatever device," he said.
The cloud-based delivery model allows Autodesk to provide frequent updates to Fusion 360. "Our current release strategy aims to deliver new features to users as quickly as they become available," said Graham, so the product team releases regular updates every two weeks, and sometimes even more frequently. However, he said, "big, thematic updates," such as the thermal studies introduced in January, "require a more tactical deployment, which is why we target them for every six to eight weeks."
From Fusion 360's Studies selection panel, a designer can now analyze temperature distribution in a design, tracking input and output of heat loads, including applied heat, surface heat, radiation, convection, and internal heat. A visual display of thermal distribution helps the designer run through iterations and determine how to optimize a design. The thermal stress study takes thermal distribution data and translates that into a stress study, helping to determine which areas of an object are more prone to stress and deformation.
Adding such new study types to Fusion 360's simulation workspace "is really core to what engineers are asking us for," Graham said. "It lets them make more informed design changes on their models."
READ MORE ARTICLES ABOUT AUTODESK:
Post-processing capabilities have now been added that allow the design to interrogate a study in three new ways. Via Point Probe, the user can pick a specific point on a surface to read the study results at that spot. With a Surface Probe, a designer can designate multiple points on a surface and flip through the results of various studies, such as thermal, displacement, strain, and contact pressure. Slice Plane lets the user cut through a model to see study results both at the surface and through the interior of the object.
In addition, the solution's development team rolled out upgrades to modeling, collaboration, and rendering tools. More functionalities have been folded into the Fusion 360 mobile app. Collaboration improvements focus on allowing better markup and commenting capabilities for team members in Fusion 360's 3D Web viewer.
"In the January update, we have support now for more complex shape manipulations," said Graham, via improvements in the application's texture mapping on 3D objects. As the designer manipulates and reshapes a body, the surface texture changes in real time. "Our view is that it's important to have designs look more realistic and lifelike as you're designing them," said Graham.
An example of greater integration in Fusion 360 is its new support for Associative Offset. "Creating a design can be very iterative," Graham told us. For example, in creating a phone, a designer might have to create an offset sketch defining the phone's external case. A change to the phone's internal body will affect the profile of the case. Such a change can now be reflected dynamically to the case. Without such associative offset, design changes can require substantial tinkering. "We want to make sure changes are easy and robust," Graham said.
Autodesk provides Fusion 360 on a subscription basis for commercial customers, charging $25 per month with an annual subscription. The application is free for students, educators, hobbyists, and startups.
Al Bredenberg is a writer, analyst, consultant, and communicator. He writes about technology, design, innovation, management, and sustainable business, and specializes in investigating and explaining complex topics. He holds a master's degree in organization and management from Antioch University New England. He has served as an editor for print and online content and currently serves as senior analyst at the Institute for Innovation in Large Organizations.