In an interview with Design News, Walid Abu-Hadba, chief product officer at Ansys, and Todd McDevitt, marketing director, said Ansys 17.0 far exceeded that goal, which CEO Jim Cashman publicized in a company announcement. In particular, they stressed an important trend that is driving the development of simulation software: the ability to truly allow a product under development to be tested virtually.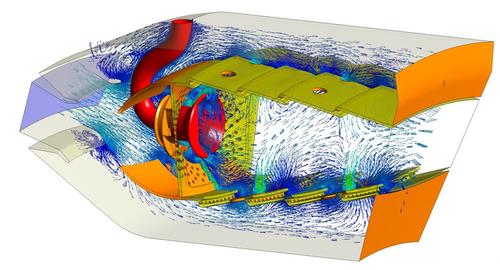 Fluid flow simulation of a combustor case in Ansys 17.0
(Source: Ansys)
Abu-Hadba said the platform is predicated on about 60 applications that allow product development teams to integrate different types of physics into one environment. For example, an engineer can prototype and test a system virtually, incorporating not just a physical model but also embedded systems and software.
Ever-faster processor power has enabled the performance in Ansys 17.0, and customers are able to simulate a great variety of complex systems, and to do so quickly and virtually. With ever-more-powerful simulation capabilities, Abu-Hadba said.
"We're living in an era of huge opportunity for innovation and growth," McDevitt said, but to take advantage of that opportunity, companies have to get products to market more quickly. "They have to get the design right the first time, which is where simulation comes to bear. Companies now are using simulation much earlier in the product development process."
[Visit Ansys at Booth 3409 at Pacific Design & Manufacturing, Feb. 9-11, at the Anaheim Convention Center.]
Virtual testing can result in mammoth savings in development costs and can radically speed up time-to-market for new products, as long as the software can create true-to-life simulations.
Ansys' simulation tools for structural analysis, fluid dynamics, electronics, semiconductors, embedded software, multiphysics, and system modeling are tied together by the Workbench platform that provides a workflow framework and integrated process. Ansys sells its products into a broad range of industries, including aerospace, defense, automotive, machinery and equipment, energy, high-tech, materials, chemicals, construction, healthcare, and consumer goods.
Enhancements in Ansys 17.0 allow high-fidelity simulations that can provide advanced insight into the real-world performance. In the design of printed circuit boards, for example, the new release allows an engineer to more quickly import ECAD geometry and perform complex analyses to predict stress, deformation, and fatigue.
The company said it has continued to improve the suite's ability to leverage high-performance computing (HPC) technologies on the customer end. New high-performance processors can greatly speed up the simulation of complex products, but the simulation software has to be architected to take advantage of the processors' capacities.
READ RELATED ARTICLES ON DESIGN NEWS:
Company materials cite the example of electric machine and motor design as an important use case. Demand is high for power-efficient machines, but simulation requires immense computing resources. According to Ansys, a conventional electromagnetic field analysis can take two weeks or longer. Briam Cavalca Bork, project engineer at motor manufacturer WEG Industries, said Ansys's updated electromagnetics suite improved simulation time by a factor of 20, allowing designers "to do more complex analyses on a greater variety of scenarios."
Ansys focused particularly on improving efficiencies and integration in workflow, it said of the new release. Tighter integration of the suite's semiconductor and electronics simulators now allow for "a comprehensive chip-package-system design workflow," according to company materials. Products in the IoT (Internet of Things) space, especially smaller devices with a higher power-density, require integrated workflow. New capabilities in thermal analysis and integrated structural analysis give engineers simulations that are much more "chip-aware and system-aware," according to the company.
The new Ansys release also includes improvements in pre-processing, the setting up of geometry for new simulations. The company sought to improve users' productivity by speeding up the saving and loading of complex models. Said the company's announcement: "The performance for common geometry editing functions has increased by up to 100 times."
Al Bredenberg is a writer, analyst, consultant, and communicator. He writes about technology, design, innovation, management, and sustainable business, and specializes in investigating and explaining complex topics. He holds a master's degree in organization and management from Antioch University New England. He has served as an editor for print and online content and currently serves as senior analyst at the Institute for Innovation in Large Organizations.