In early December, the US Patent and Trademark Office (USPTO) hosted the first Industrial Design 5 Forum, featuring representatives from the five largest design offices in the world: the USPTO, the Japan Patent Office (JPO), the Korean Intellectual Property Office (KIPO), the European Union's Office for Harmonization in the Internal Market (OHIM), and the State Intellectual Property Office of the People's Republic of China (SIPO).
At the two-day forum, the parties agreed to a statement on administering a new framework for governing and protecting industrial design in global and domestic markets. The new framework is referred to as "ID5," to be administered by these five agencies, which agreed to meet annually to hammer out its details.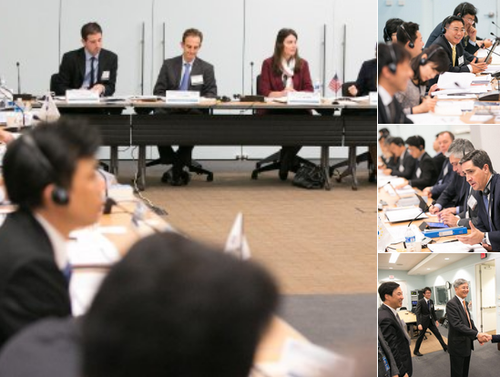 (Source: US Patent and Trademark Office)
USPTO Director Michelle K. Lee said in opening remarks at the forum, "We must come together collectively to strategically develop tools, practices, and office efficiencies. These agreements will promote the further development of user-friendly, consistent, and interoperable industrial design protection systems."
"Designs," Lee said, "focus on the visual impression provided when one views the design. We look to the overall appearance of a design to judge whether it's new or novel, as well as whether it is a misappropriation of someone else's design rights. Designs are truly judged in the eye of the beholder."
Historically, the importance of protecting designs was not recognized right away. Design patents became part of US law in 1842, some 50 years after the establishment of the first Patent Act.
But today, "the growing global importance of industrial design protection, as well as the need for a new international framework devoted to its improvement" has become apparent, particularly in the realm of graphical user interfaces and icons, which have become contentious areas in recent years.
READ MORE ARTICLES BY RP SIEGEL:
These issues were previously addressed within the TM5, which was focused primarily on trademark-related issues, but given the increasing importance of industrial design, it was decided that a specific forum dedicated to this issue was required.
"Industrial designs," Lee said, "are unique forms of intellectual property. Unlike invention patents and trademarks, industrial designs combine industrial applicability with ornamentality and creative expression. They recognize not just the value of the appearance of an object, but how it functions."
The coalition will attempt to address and reconcile differences across countries. In the US, for example, design patents are examined for novelty, obviousness, and clear disclosure before being granted, whereas some other countries simply register them, deferring priority challenges and other issues, if they occur, to be addressed in the enforcement phase.
Looking for ways to streamline the process and reduce the burden on applicants, the coalition identified 13 projects. For example, the member countries will develop a common website, compile and maintain statistics, and address how to handle some newly emerging areas such as graphical user interfaces (GUI) and icons.
Some of these tasks may be implemented in coordination with the World Intellectual Property Organization (WIPO), which plays a major role in providing global access as well as facilitating policy discussions.
RP Siegel, PE, has a master's degree in mechanical engineering and worked for 20 years in R&D at Xerox Corp. An inventor with 50 patents, and now a full-time writer, RP finds his primary interest at the intersection of technology and society. His work has appeared in multiple consumer and industry outlets, and he also co-authored the eco-thriller Vapor Trails.
Like reading Design News? Then have our content delivered to your inbox every day by registering with DesignNews.com and signing up for Design News Daily plus our other e-newsletters. Register here!

Design engineers and professionals, the West Coast's most important design, innovation, and manufacturing event, Pacific Design & Manufacturing, is taking place in Anaheim, Feb. 9-11, 2016. A Design News event, Pacific Design & Manufacturing is your chance to meet qualified suppliers, get hands-on access to the latest technologies, be informed from a world-class conference program, and expand your network. (You might even meet a Design News editor.) Learn more about Pacific Design & Manufacturing here.