After a discussion with Stratasys representatives at the Pacific Design & Manufacturing Show about Trek's bike prototype, I discovered prototypes aren't the only thing being 3D printed for bikes. Final frames for a bike made by Renishaw have been 3D printed in titanium, and bike component maker Kappius uses EOS machines to produce complex metal end-product parts.
UK-based Renishaw says it's used its additive manufacturing (AM) technology to make the first ever 3D-printed metal frame for the MX6-EVO mountain bike designed by Empire Cycles. A seat post bracket was also produced with this method. The titanium alloy frame is 33% lighter than the previous aluminum alloy version, dropping from 2.1 kg to 1.4 kg (4.6 lb to 3 lb), and the seat post bracket is 44% lighter than its aluminum alloy version, dropping from 360 g to 200 g. This was made possible by using topological optimization technology.
As we've told you, this sophisticated software is one of the secret weapons behind successful use of carbon composites and other innovations in aerospace and automotive designs. In this case, it was also used to optimize the bike frame for the AM process by eliminating a lot of surfaces that would otherwise need support structures. As we've reported, these can produce a lot of waste material.
The titanium frame is also stronger, even though it was produced in sections and then bonded together using Mouldlife's adhesive. The frame and the seat post bracket were made on Renishaw's AM250 laser melting system, which is another name for laser sintering. The machine has a 250 x 250 x 300 mm build volume and handles stainless steel, tool steel, aluminum alloys, titanium alloys, cobalt-chrome, and inconel. The company also makes vacuum casting and injection molding machines.
Kappius Components had a different problem to solve: could their complex design be made at all? The small, specialized company makes its own designs for bike components that directly affect the ride, like hubs and drive assemblies. To tweak the iterations of its oversized hub design during development and get fast turnaround of dimensionally accurate parts, the owners tried EOS' direct metal laser sintering (DMLS) process. According to an EOS case study, ten drivetrain assemblies can be made in two builds on an EOSINT M 270 machine. The material used is heat-treatable maraging steel, which has excellent hardness and strength.
Click the image below to start the slideshow.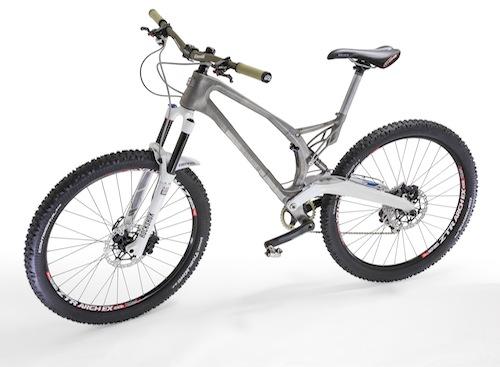 The complete MX6-EVO mountain bike designed by Empire Cycles, with 3D printed titanium alloy frame and seat post bracket manufactured by Renishaw.
(Source: Renishaw)
Related posts:
{doclink 271813}
{doclink 271649}
{doclink 271385}
{doclink 271311}
{doclink 271244}
{doclink 271093}
{doclink 271012}
{doclink 270865}
{doclink 270456}
{doclink 270436}
{doclink 270384}
{doclink 270238}
{doclink 269747}
{doclink 269675}
{doclink 269565}
{doclink 269539}
{doclink 269201}
{doclink 269091}
{doclink 269073}
{doclink 268622}
{doclink 268568}
{doclink 267987}
{doclink 267732}
{doclink 266958}
{doclink 265793}
{doclink 259420}
{doclink 251526}