The 3D printing of carbon fiber composites is still a pretty rare event. It's been done in some high-end aerospace applications, as we've reported before. Recently, we told you about the first commercial carbon fiber 3D printer using continuous fiber, unveiled at SolidWorks by US-based company MarkForged. It turns out there's at least one more, noncommercial machine that 3D-prints a carbon fiber composite, although it's not for sale. You can use the manufacturer's services and materials for making more industrial-strength products and prototypes.
The company, Italy-based CRP Technology, has 3D-printed a 1:14 scale model of a yacht in carbon fiber composites in order to demonstrate the possibilities and give a boost to boat design. The model was displayed at last month's Miami Boat Show. The yacht model is called the Livrea26, designed by Livrea Yacht Italia in concert with CRP. It is inspired by the traditional fishing boats from the island of Pantelleria, according to a press release.
CRP Technology uses selective laser sintering (SLS), plus composite materials under its Windform brand, for producing short-run end-production parts. These final parts are mostly for sport and road vehicles, as well as for prototypes and conceptual models. The materials can also be processed with tooling and CNC machined. The composite material used for the yacht model is Windform XT 2.0, a carbon fiber filled polyamide. You can watch a video showing some of the printing process of the boat here.
The XT 2.0 material is also used in unmanned aerial vehicles, a.k.a. drones, and in other aerospace applications, such as tiny satellites known as CubeSats. It's also used to make under-hood components, including cooling ducts and intake manifolds, for sport vehicles such as motorcycles. Mercedes is listed as one of its users. You can see some specs on XT 2.0 here and a data sheet here. Other SLS composite materials using fiberglass and carbon reinforcement are also available. CRP also sells those materials separately.
Click the image below to start the slideshow.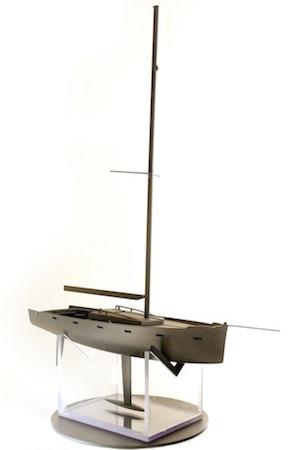 CRP Technology has 3D-printed a 1:14 scale model of a yacht in carbon fiber composites in order to demonstrate the possibilities of the material used with its selective laser sintering 3D printing process and to give a boost to boat design.
(Source: CRP Technology)
Related posts:
{doclink 271813}
{doclink 271649}
{doclink 271385}
{doclink 271311}
{doclink 270865}
{doclink 270436}
{doclink 270384}
{doclink 269747}
{doclink 269675}
{doclink 269565}
{doclink 269539}
{doclink 267987}
{doclink 267732}
{doclink 266958}
{doclink 265793}
{doclink 259420}