Arizona State University (ASU) recently opened an entire cross-discipline research center devoted to biomimicry. So it's no surprise an ASU mechanical and research engineer there recently used this design method to come up with new coating for de-icing planes that can conserve the amount of antifreeze currently used by airports.
ASU researcher Konrad Rykaczewski was traveling in Panama last year where he saw a poison dart frog, which inspired him to come up with a new coating for de-icing planes, a subject he'd been working on since 2012.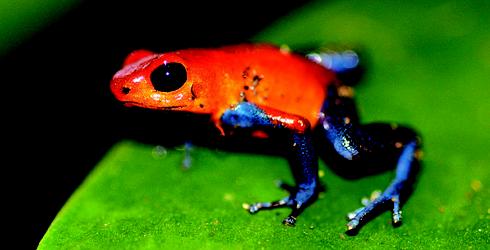 A strawberry poison dart frog like this one inspired ASU engineer Konrad Rykaczewski to come up with a new coating for de-icing planes.
At the time, Rykaczewski was struggling with a problem with the new coating he'd designed that consisted of a textured surface that contained a small amount of oil -- a so-called slippery liquid infused porous surface (SLIP), or lubricant impregnated surface -- that is supposed to repel anything that comes in contact with it.
"The problem that I found with it was that during frosting most of the oil drained into the frost, essentially 'breaking' the coating," he explained in an interview with Design News. "So unfortunately, SLIPS were not a silver bullet for anti-icing."
MORE FROM DESIGN NEWS: Software Is Using Biomimicry to Optimize Part Design
While he'd encountered poison dart frogs in zoos before, he'd never looked very closely at how the "poison" part of the frog works. Encountering the frog in the wild, however, inspired him to explore this method. "Seeing the frog in Panama motivated me to find some literature on the subject," he said, discovering that a frog has two layers of skin -- one that stores the poison, and an external layer. "The functionality of poison release on demand was exactly what I wanted to do with antifreeze, and having a two-layer skin instead of a single textured layer was a clever way to do that."
It took about a year of work in the lab to see if the frog's way of storing and secreting poison was a sound one for his de-icing method, Rykaczewski said. It turns out it was, with a twist in design to add two layers of coating that have varying wetting properties. "The top one somewhat gets temporarily switched when frost or condensate is on it to release the antifreeze," he told us.
MORE FROM DESIGN NEWS: Meet Festo's Biomimicry-Inspired, 3D-Printed Bionic Insects
This allows the coating to use antifreeze only when it's needed, conserving antifreeze and minimizing waste, Rykaczewski said. This differs from how anti-icing coating is administered to aircraft now, either with a shower of antifreeze on planes as they sit on the tarmac prior to a flight, or a continuous dispensing of antifreeze on smaller planes as they fly. "Antifreeze can be expensive and airports have limited supplies," he told us. "So often flights get grounded because the airport ran out of the antifreeze. By emulating behavior of a frog, our coating conserved antifreeze by using it only when it is needed."
He and his team are continuing their work on the coating by seeking to understand fundamental thermofluidic processes to come up with an optimal coating structure, he said. "We are also working on scalable ways to manufacture a more durable version of this coating on a larger scale," Rykaczewski added.
Elizabeth Montalbano is a freelance writer who has written about technology and culture for more than 15 years. She has lived and worked as a professional journalist in Phoenix, San Francisco, and NYC. In her free time she enjoys surfing, traveling, music, yoga, and cooking. She currently resides in a village on the southwest coast of Portugal.
Design engineers, New England's premier design and manufacturing event, Design & Manufacturing New England, will take place in Boston, May 6-7, 2015. A Design News event, Design & Manufacturing New England is your chance to meet qualified suppliers, get hands-on with the latest technologies, be informed, and expand your network. Learn more here.