My favorite keynote at last week's Design & Manufacturing Minneapolis conference and co-located events was George Leopold's speech about astronaut and engineer Gus Grissom. Leopold's talk, The Astronaut as Engineer, looked at the beginnings of NASA, and how Grissom played a pivotal role in winning the Space Race.
Leopold, a well-known science and technology writer, has done extensive research on Grissom and the critical role he played in designing early American spacecraft, including the early Mercury craft and the Gemini ship that served as the bridge to the Apollo platform. One of astronaut Grissom's key design goals for these craft was to reduce the risks associated with the launchpad failures of the late 1950s and early 1960s. In those days, around 70% of US rocket launches failed, said Leopold. "If a booster exploded and didn't destroy the launchpad, it was considered a success," he said. "Elon Musk's recent failure was the first launchpad destruction since that time."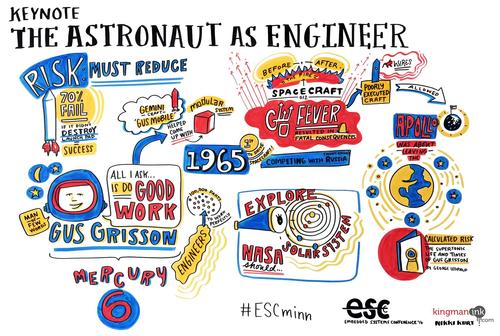 Infographic of Leopold's speech drawn by Nikki Kurt for Kingman Ink.

Of all the seven astronauts in the Project Mercury lineup, as a mechanical and aeronautical engineer by training, Grissom had the strongest engineering background. He held a mechanical engineering degree from Purdue University and an aerospace engineering degree from the US Air Force. He was also a US Air Force test pilot, and had flown many combat missions in the Korean War.
Grissom took a lead role in designing the unmanned Mercury craft, as well as the later manned Gemini craft, Leopold said. He was responsible for several design innovations. In the Gemini craft, these included components that could be swapped out, a novel idea back then, and, in the Gemini 6A, the first computer to fly in space.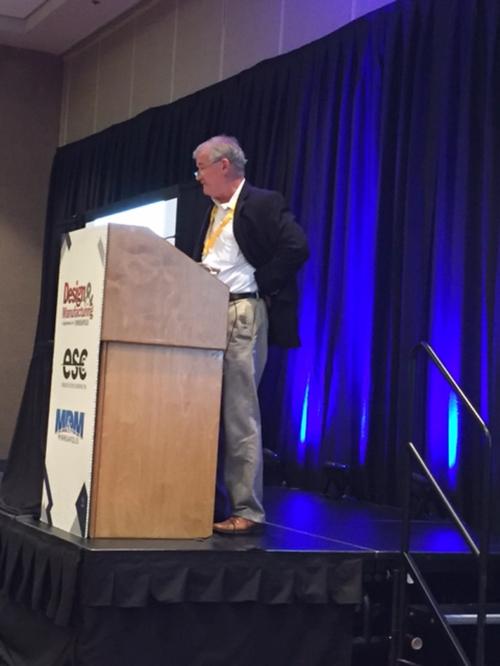 Leopold's research was recently published in the book, Calculated Risk: The Supersonic Life and Times of Gus Grissom, which explains in detail what actually happened in the failure Grissom was, unfortunately, famous for: blowing the hatch off of the Liberty Bell 7 spacecraft after splashdown, during the second Project Mercury flight in 1961. That caused seawater to flood the spacecraft, which made it sink in the Atlantic Ocean, as Design News Senior Technical Editor Chuck Murray has detailed in his review of Leopold's book.
The Liberty Bell incident was caused not by Grissom's error, but by an electrostatic discharge, according to Leopold's extensive research. Grissom did not panic and hit the "chicken switch," as he continued to claim throughout his life. Leopold found that the witnesses closest to the incident saw an arc when they made contact with the ungrounded spacecraft.
READ MORE ABOUT GUS GRISSOM ON DESIGN NEWS:
In his talk, Leopold also discussed the events and their causes behind Grissom's tragic and untimely death. During a simulated NASA launchpad test procedure on the Apollo 1 spacecraft in January 1967, a spark caused a rupture and a fire that killed all three men aboard, including Grissom. Leopold said his research showed that the disaster was the direct result of group thinking, and an obsession with schedule that made NASA fail with its own quality control procedures. It took two years after the disaster to fix the problems with the Apollo command module.
But those problems were fixed, and from Grissom's sacrifice a magnificent machine emerged, the Apollo command module. The Apollo went on to successfully, and safely, fly many astronauts to the Moon and back, helping the US win the Space Race. Leopold's research, and his book, have helped restore Grissom's reputation and, as Chuck's article says, "it vindicates a man whose life work served as part of the bedrock of US space flight."
Thanks, George.
[images via Suzanne Deffree/Design News]
Ann R. Thryft is senior technical editor, materials & assembly, for Design News. She's been writing about manufacturing- and electronics-related technologies for 29 years, covering manufacturing materials & processes, alternative energy, and robotics. In the past, she's also written about machine vision and all kinds of communications.