The US Air Force has picked Aerojet Rocketdyne to define standards for qualifying 3D printed components used in liquid-fueled rocket engines. We've been following the company's progress, along with others, in using 3D printing (3DP) and additive manufacturing (AM) for making production parts used in mission-critical, super-high-temperature aerospace applications, especially rocket engines.
Like other aerospace OEMs, the company has found that AM can reduce manufacturing costs and build times, as well as give engineers more design flexibility, creating components that would otherwise be impossible to build with traditional subtractive manufacturing methods. The engine maker says that newer liquid rocket engine designs are taking advantage of 3DP technology especially because of those time and cost reductions. Its AR1 rocket engine, for example, which includes additively manufactured parts, is being built to replace the Russian-made RD-180 engines currently used on the Atlas V launch vehicle.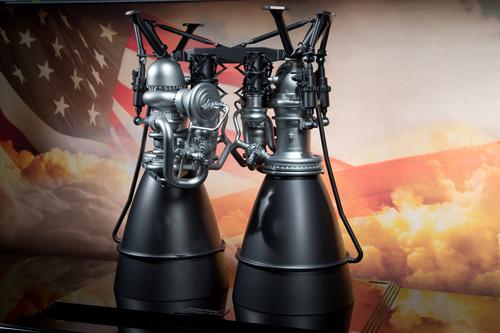 Aerojet Rocketdyne's AR1 rocket engine, currently in development, contains several production parts made with additive manufacturing. The US Air Force has given the company a $6 million contract to define standards for qualifying 3D printed components used in liquid-fueled rocket engines.
(Source: Aerojet Rocketdyne)
The $6 million contract to develop standards was awarded as part of the Air Force's Booster Propulsion Technology Maturation Broad Agency Announcement. This is, in turn, part of a plan to transition away from the RD-180 engines, which currently power most launches of US government national security satellites. In December, the company completed the AR1's design review phase. That included thorough analysis of the engine's 18 components and subsystems to ensure proper operation, both separately and when integrated together. "It is imperative that engine manufacturers understand the qualification methodology for this revolutionary technology because of the criticality of the assets they help launch into space," said Julie Van Kleeck, the company's vice president of advanced space & launch programs, in a press release.
[Discover the latest trends and technologies in 3D Printing and Additive Manufacturing at Pacific Design & Manufacturing, Feb. 9-11, at the Anaheim Convention Center.]
Aerojet Rocketdyne has extensive experience using AM for prototyping and production of 3D printed rocket engine components, as well as developing new materials and manufacturing processes for complex engine designs. As we reported, this includes 2014's successful hot-fire testing of a demo engine made entirely with AM. At that time, the company said it wants to make booster, upper-stage, and in-space rocket engines more affordable by designing and building the lower-cost engine Bantam family of engines to take full advantage of AM. Instead of dozens of components, the demo engine contains three. Engineers also slashed costs by about 65% and cut total design and manufacturing times from over a year to a couple of months.
READ MORE ARTICLES ON 3D PRINTING:
In September last year, the engine maker used AM to replicate the injector of the F-1 rocket engine's gas generator, and
successfully hot-fire tested it
with propulsion testing expert Dynetics to demonstrate that performance doesn't have to be sacrificed to build a proven design at a competitive cost.
Last month, the company completed 12 production nozzle extensions for use aboard the Orion spacecraft that were made with AM. The parts are components in Orion's crew module reaction control system that Aerojet Rocketdyne is building for Lockheed Martin and NASA. The nozzles were made in six weeks, a savings of about 40% in conventional manufacturing production time. The company will perform inspections and hot-fire tests to qualify the components for use on Orion's Exploration Mission-1 test flight in 2018.
Ann R. Thryft is senior technology editor, materials & assembly, for Design News. She's been writing about manufacturing- and electronics-related technologies for 27 years, covering manufacturing materials & processes, alternative energy, and robotics. In the past, she's also written about machine vision and all kinds of communications.
Like reading Design News? Then have our content delivered to your inbox every day by registering with DesignNews.com and signing up for Design News Daily plus our other e-newsletters. Register here!