Chevy Volt batteries have caught fire. The National Highway Traffic Administration (NHTSA) is investigating, and General Motors has offered to buy Volts back from any owner who fears the electric cars will catch fire.
So does it mean the Chevy Volt is unsafe? The short answer is, no -- Volts won't be spontaneously bursting into flames on our nation's highways. Rather, according to experts we spoke with, the Volt fires prove that automotive engineers have been justified in employing elaborate and expensive cooling systems in their electric vehicles.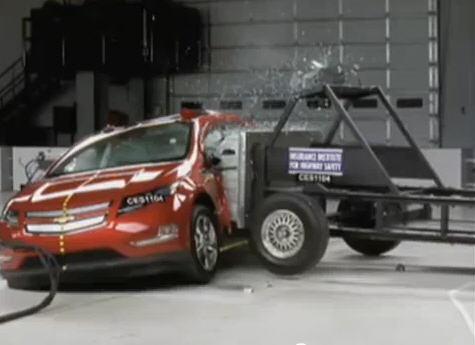 The truth is, there's always been a well-understood fire risk associated with lithium-ion batteries. "The chemistry is edgy," Donald Sadoway, professor of materials chemistry at the Massachusetts Institute of Technology, told Design News in an email. "The electrolyte is an organic liquid that is flammable, highly volatile at even moderately elevated temperature and in the presence of metallic lithium, which can form on the negative electrode at high charging rates."
Elton Cairns, a professor of chemical and biomolecular engineering at the University of California-Berkeley, explains: "In a lithium-ion battery, you've got electrodes that are tens of microns from one another. If you deform the cell case and it causes the electrodes to touch one another, there's an internal short circuit. That can cause the cell to rapidly discharge and, in so doing, heat up."
All of that might sound like a prescription for an epidemic of electric car fires, but it isn't. Why? Because of the aforementioned cooling systems. The Volt employs a fluid coolant that circulates through 1mm-thick channels machined into 144 metal plates that sit between the battery's cells. Using the coolant, the Volt draws the heat away from the core of its big battery.
Similarly, Toyota's Prius PHV, a plug-in hybrid, uses three fans for air circulation, along with ductwork, and 42 sensors to monitor the temperature of its lithium-ion battery. Virtually every manufacturer of production EVs also employs battery management systems and multiple microcontrollers to track the operation of the battery pack at every moment.