PIM can cut costs by combining multiple steps, such as texturing and labeling, or multiple parts. "Depending on the application, when you analyze what the parts are doing and why they're independent, you might be able to design them into a single part," said Justus.
BASF's Catamold catalytic debind process has three main advantages over other PIM processes, according to Justus. Its faster manufacturing cycle times increase capacity and enable either a truly continuous process or batch manufacturing. "That's difficult to do with other, non-catalytic PIM processes because their throughput time is too long," he said. "Catamold also gives better dimensional control and stability when centering the part. Regardless of the alloy, green parts can be machined more easily to add features that are difficult to incorporate in injection molding."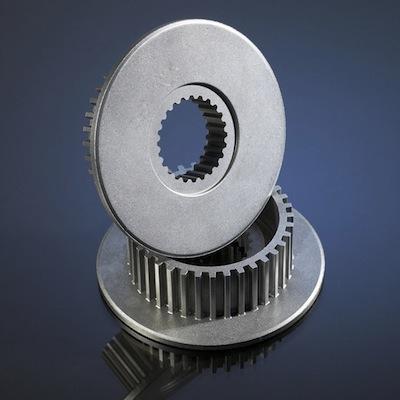 Powder metal generally gives more design freedom than traditional forging and casting processes, said Franks. "We can make net shapes to help develop technologies that make vehicles weigh less, and other technologies that add to fuel economy." Examples are variable valve timing, used in most automotive applications; advanced planetary and manual transmissions; and overriding clutches. Otherwise, those profiles and shapes would require machining.
Some shapes can be made with PM that otherwise would need intensive machining and wouldn't be industrially feasible for reasons of cost, capabilities, and capital, said Franks. "A lot of vehicle innovation today wouldn't be possible without PM," he said. "We're seeing more acceptance among both OEMs and companies that develop PM technology, across all the industries we serve."
Although as a niche product and process aluminum PM isn't new, GKN is seeing a growing interest, especially in automotive, for broadening its use, said Franks. In some PM-dependent product lines, saving vehicle weight is the main driver.
Especially with a PM-dependent design, a shape that can't be made with another process, and the need to take mass out, PM aluminum is a great solution. "We've also been involved in materials development to increase strength, wear, or thermal conductivity."