Knowles said:
An accident data recorder is mounted in the cockpit under the driver's legs so it is well-protected in case of an accident. The ECU is mounted on the left-hand side of the car as the right-hand side is what normally hits the wall first at an oval where the cars run counterclockwise.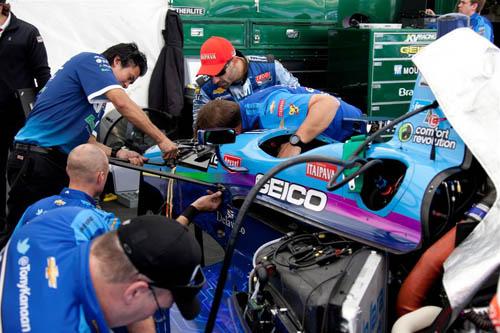 One piece of IndyCar electronics is unique -- the steering wheel that contains the displays and controls customized to each driver. "Wheel components are located so the driver can operate them without taking his/her hands off the grip," Woodie said. "All components are aerospace-grade, and water- and dust-proof." For reliability, the steering wheels are torn down and re-built on a regular basis, replacing controls as they reach mileage or age limits. A quick-release collar/connector on the steering wheel allows it to be changed out in seconds with a backup wheel during a pit stop if there is a problem.
"Critical controls are hard-wired through the steering column. Others operate through the CANbus used by the dash display mounted on the steering wheel," said Knowles.
Over the last decade, IndyCar electronics have evolved dramatically -- and become more complex. But they have become smaller, lighter, and more capable -- making the cars lighter and faster, while improving data acquisition and control.
Learn more about the Indy 500 at Littelfuse's Speed2Design site.
Related posts:



A middle school team from Rochester, Mich., has again nabbed the grand prize in the annual international Future City Competition, which drew students from 37 regions of the United States, as well as from England and China.

3
The actor captured imaginations and inspired scientists and engineers all over the world in his role as Star Trek's Mr. Spock.
You know you're an engineer if you chuckle whenever anyone says "centrifugal force," or you find yourself at the airport studying the baggage handling equipment.

3
The word "smart" is becoming the dumbest word around. It has been applied to almost every device and system in our homes. In addition to smartphones and smart meters, we now hear about smart clothing and smart shoes, smart lights, smart homes, smart buildings, and every trendy city today has its smart city project. Just because it has a computer inside and is connected to the Web, does not mean it is smart.
Are you being paid enough? Do you want a better job? According to a recent survey Manpower released just before Engineers Week, employers and engineers don't see eye-to-eye about the state of US engineers' skills and experience.

Focus on Fundamentals consists of 45-minute on-line classes that cover a host of technologies. You learn without leaving the comfort of your desk. All classes are taught by subject-matter experts and all are archived. So if you can't attend live, attend at your convenience.