For APC, a division of Schneider Electric that makes power distribution systems, the speed in which the environmental regulations came down the pike created a massive challenge to revamp its tools and processes. On the eve of the 2006 introduction of the EU's RoHS legislation, the stakes were incredibly high. A full third of APC's product portfolio -- accounting for nearly $600 million of revenue from European sales -- was in jeopardy, because the firm lacked the proper paperwork to demonstrate compliance, according to Ray Lizotte, who came on board as director of its product stewardship office in 2004.
Unlike past regulations, which followed some sort of evolutionary path, the rules governing environmental compliance called for dramatic changes, Lizotte says. "With this level of compliance change, we had to develop whole new ways of conducting business. The old tools were not good enough. You were really talking about the new compliance requirements being game changers."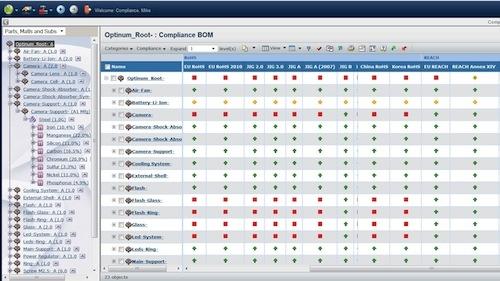 Historically, more than a few APC engineers would spend most of their time pushing paperwork to deal with the administrative burden around compliance, and that scenario was hardly sustainable going forward. By trading manual processes for a software solution -- in this case, InSight Environmental Compliance (now known as PTC's Windchill Compliance) integrated with a homegrown PLM system -- APC was able to collect and input nearly 60,000 pieces of data in less than 12 months and convert its entire product portfolio to meet its RoHS deadline and avoid any revenue loss.
In addition to the software tools, APC instituted new processes for collecting data from suppliers, and it built workflows that grab data from the Windchill Compliance platform and push it out to other systems (enterprise resource planning, for example). This makes the data readily accessible to non-engineering users, such as purchasing agents, who can then factor compliance information into their evaluation of parts and suppliers.
The software has definitely helped automate the compliance process, Lizotte says, but the constant change and increasing complexity around information demand a higher level of knowledge by the engineering team. "People who are managing the system are now having to delve into issues beyond their expertise. One of our ongoing challenges is around how to bring on a higher level of environmental expertise without burdening the process with lots of additional environmental people."
Harmonic Inc., which provides digital video hardware and software, also recognized early on that manual processes and spreadsheets were not going to suffice in terms of staying abreast of the moving compliance target. On top of an investment in Oracle's Agile document management system, the firm deployed ENOVIA Materials Compliance Central (MCC) from Dassault Systèmes to serve as a central and dynamic database to handle all its compliance data.
Implementing the software foundation was just one piece of the puzzle. Harmonic also updated key business processes around supplier management to ensure it was well situated to meet current demands and to respond to evolving regulations, according to Tamas Farkas, the company's compliance manager. Specifically, the firm modified its first article of inspection procedure so parts are approved conditionally, even if substance data is not readily available in the ENOVIA system. Final approval is granted only when the required material is compiled. This gives design engineers the flexibility to spec a part on good faith, Farkas says, without having to wait until all the data is compiled.