Laminate batteries make a comeback
Even within the lithium-ion category, however, a sub-category is gaining momentum. Lithium polymer, a branch of lithium-ion that employs a flat laminate structure, is reaching a growing range of applications. "There's definitely a trend toward lithium polymer in portable devices because there's a race to make them all thinner," TI's Barsukov says. "All of the newest, coolest gadgets out there, starting with Apple and Android devices, are using polymer because of the thin cells and the high energy density."
Indeed, Apple's MacBook air measures 0.67 inches thick, thanks in part to its use of lithium polymer batteries. Lithium polymer offers other advantages. Among them:
Flexibility, which allows engineers to easily change a design to fit a prescribed space
Aspect ratio, making it simpler to create a large, flat cell
Higher C-rate, which makes it possible to deliver more current in less time
"For most designers, the decision to use or not to use lithium polymer depends on the available space," Brian Way, senior research and development manager of BAK Battery in Canada, told Design News. "If you have a large volume, then it's usually cheaper to install a cylindrical battery. But if you have a small, flat space, and you need a custom size to fill it, then polymer is probably the easiest way to go."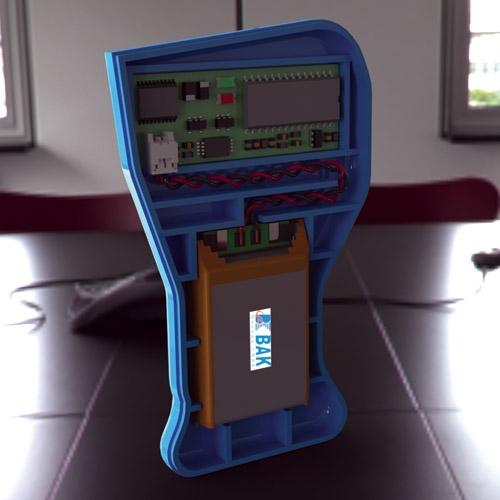 Lithium polymer offers those possibilities because it uses a laminate structure with an electrolyte that can range from liquid to gel to solid. Unlike conventional lithium-ion cells, which are contained in a metal can, lithium polymer cells reside in an aluminized foil bag, similar to a potato chip bag. The multi-layered bag keeps water from getting into the battery and prevents electrolytes from leaking out, but it provides another advantage: It's far lighter and thinner than the cylindrical metal casing of an 18650. That, in turn, makes it possible to create a battery that's similar in form to a loose-leaf notebook.
"They can be really thin and they can be stamped out in a bunch of different sizes," says Tichy of Micro Power Electronics. "You can make small batteries, like the ones used in ear buds. Or you can make really big batteries for electric vehicles or fork lifts."
What's more, lithium polymer cells offer higher rates of discharge. The C-rate -- a parameter that describes how long it takes to fully discharge a battery -- is much higher in polymer batteries than in cylindrical or prismatic lithium-ion batteries. Whereas traditional lithium-ion batteries top out at C-rates of roughly 2, lithium polymer batteries can have C-rates approaching 15 or more. The ability to discharge current at faster rates translates to greater power for the applications.
"In some ways, lithium polymer makes products much more functional," Tichy says. "We're seeing the possibility of it being applied to wearable vests for the military. In medical, we're seeing it being used in digital X-ray equipment, which has to be very thin."
Greater capacity
Engineers say the laminate-type technology, which virtually disappeared after a high-profile emergence in the 1990s, is enjoying a renaissance of sorts. Projections for lithium polymer demand by the
Institute of Information Technology
in Japan show it falling short of cylindrical and prismatic lithium-ion batteries, but gradually surpassing such technologies as nickel metal hydride and nickel cadmium.
"Polymer has gone from a complete rarity to fairly common in only a couple years," Tichy says.
Experts expect lithium-ion batteries of all types to keep gaining market share over the next few years. The evolution of new lithium-based batteries will continue, they say, as the technology moves toward silicon alloy anodes over the next few years.
"Silicon-based anodes are on everyone's roadmap for this year or next," says Way of BAK Battery. "They'll take the cylindrical 18650 cell from a max of about 3A-hr. to a max of about 3.5 or 4."
Within five years, some engineers believe battery capacities will even rise beyond that level. "The question is, will it go as high as 4.2A-hr. or 4.4A-hr?" says Malec of Panasonic. "We don't know yet. We can only hope so."